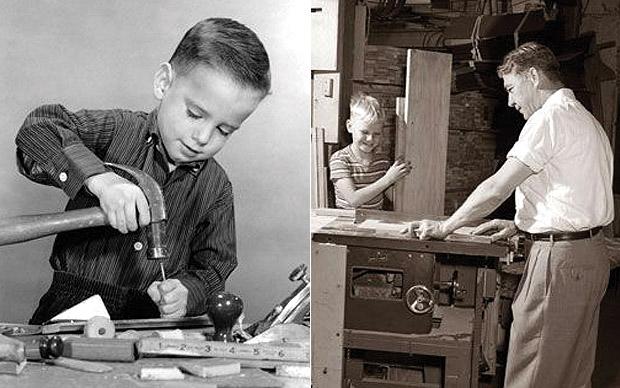 James May is famous for the UK's popular show "Top Gear," but he also does a show called "Man Lab" where he demonstrates how to do different manly skills. May asserts that dads have stopped passing down DIY skills to their sons, and that men today are wimps who don't know how to do basic home and car maintenance jobs that their forebearers did.
In a recent piece in The Telegraph, Jeff Howell articulates the other side of the issue, which is that our fathers and grandfathers enjoyed a distinct advantage that modern men don't: their appliancess were actually fixable by the home handyman. Appliances and cars used to be made in a simple way, with the parts showing, and with instruction manuals that could guide you through the process. Today's cars have engines that come sealed in metal and plastic cases, and are connected to electronic systems–they can't be fixed by the average joe and have to be taken to a trained mechanic. Companies do this on purpose–if you can't fix it yourself, you have to buy a new one, or get the dealer to fix it.
I can see both sides of the coin: Howell is definitely right that a lot of things simply can't be fixed by the household handyman anymore. On the other hand, there are still some things that a man can do for himself, and if his dad hasn't taught him how to do them, he should try to learn them himself. My dad didn't pass on a lot of DIY skills to me, but I've been slowly learning them myself as I get older, and it's a lot of fun and really satisfying.
Did your father pass down any DIY skills? If not, do you still think it's important to learn them, and have you been trying to do so on your own?
Read the whole article: DIY: Are Dad Skills Obsolete? (@The Telegraph)
Found via Built By Kids