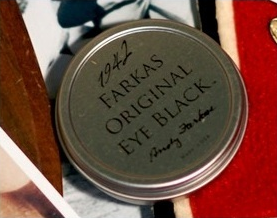 If you have a son that plays sports or if you're a weekend warrior, you might trying using some eye black to reduce the glare from the sun or lights. Farkas Eye Black has old school style, works better than those crappy stickers, and is owned by the grandson of the football player who first used eye black in 1942, "Anvil" Andy Farkas.
A tin will set you back about $7.
NY Jets safety, Jim Leonhard, has teamed up with Farkas in a campaign to stop sticker wearing athletes and encourage the use of manlier and more effective eye black.
It's a pretty clever and fun ad campaign: