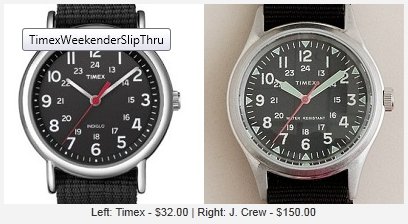 I love field watches. They're a great option for a man who looking for something in-between a  casual plastic digital watch and a dressy, upscale dress watch. Field watches are rugged, comfortable, affordable, and stylishly practical. They look good with a pair of khakis and sport coat at the office, and they can withstand the rigors of a weekend outdoor adventure.
I also love Dappered.com. If you haven't checked them out yet, you should. Unlike many men's sites, Dappered focuses on affordable men's style, and tracks down the best sales and bargains going on at any given time. They also offer good tips and advice for life. This week they did a series on the field watch, showcasing five much cheaper alternatives to J. Crew's shrewdly marketed and amazingly overpriced $150 model. You can check out their picks here. 
For a few more field watch options (including one for $13.99), check out this article I wrote about them for another website.