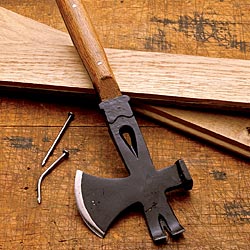 When you need to do some demolition around the house, look no further than to the Garrett Wade Box Hatchet.
 Part hatchet, part hammer, part nail remover and pry bar, this was originally made to close (or open) tea chests–the wooden crates that tea used to be shipped in back in the days of the British empire.
It also looks like the perfect companion weapon/tool to the Survival Shotgun.
via Gear Patrol