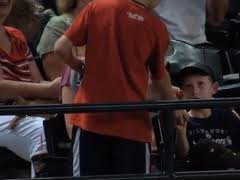 How's this for the Start of Manliness? At a recent MLB game, a Milwaukee Brewer tossed a baseball into the stands and a young fan, Nicholas, caught it. But upon seeing an even younger fan sitting dejected for having not gotten the ball himself, he handed it over to him. Nice! Watch the video.
This young chap could teach this grown woman a thing or two. Holy smokes-this video made me slap my forehead in amazement!
Hat tip to Steve S. for this link.