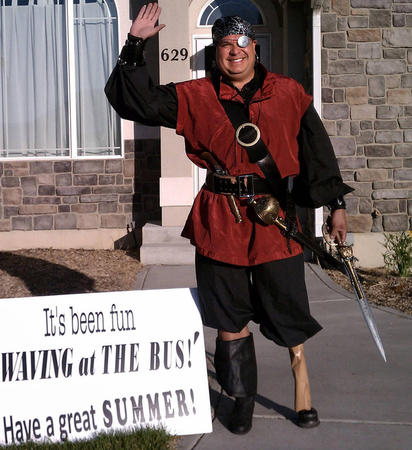 Every day, for 170 days, Dale Price waved goodbye to his 16 year old son as he rode to school on the bus….while wearing a different costume. Yes, Dale dressed in 170 different costumes during the school year, everything from Elvis to the Little Mermaid. His son at first found it embarrassing, but soon he and his friends came to enjoy seeing what new costume his dad would step out in next. Dale says he did it out of love, "It's a way of letting him know that we really care about him, but doing something a little different. It's a father's way of saying I love you," he explained.
What do you think–is this a dad showing his love in a goofy way, or just too silly for your tastes?
Read the whole article and see some of Dale's many costumes here. (@Deseret News)
Hat tip to Jim J. for the link.