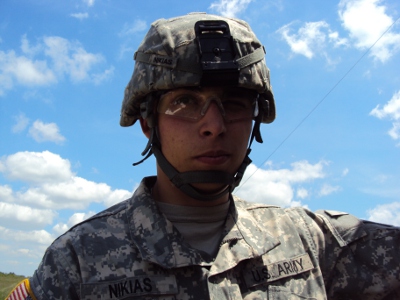 If you follow the news, you know that on Monday insurgents attacked a joint Iraqi-American base camp in Baghdad, Camp Loyalty, killing 5 US servicemen and wounding 17 others. It was the worst single death toll in that country in two years. The insurgents targeted the men's barracks and fired rockets into them as the men slept.
Morgan Nikias survived the attack, but his sister contacted us to let us know that because of where the attack occurred, all of the men's personal possessions and supplies were destroyed. The men are greatly in need of basics like soap, toothbrushes, razors, deodorant, and underwear.
So often you hear, "I don't support the war, but I do support the troops." Well here's your chance to put your money or your (unopened) deodorant where you mouth is. There are a couple of ways to help-
Luree is organizing a bunch of large care packages to send to her brother and his unit. You can send her some of the supplies mentioned above, and she'll incorporate them into the packages. Or you can create a care package yourself and send it directly to the men. Or you can just donate money, so Luree can buy supplies. Details can be found here:
http://nikiasloyalty.moonfruit.com/#/donate/4552221075
Morgan is a big fan of the Art of Manliness. I hope you'll show him and his brothers that AoM men aren't just readers, but doers!