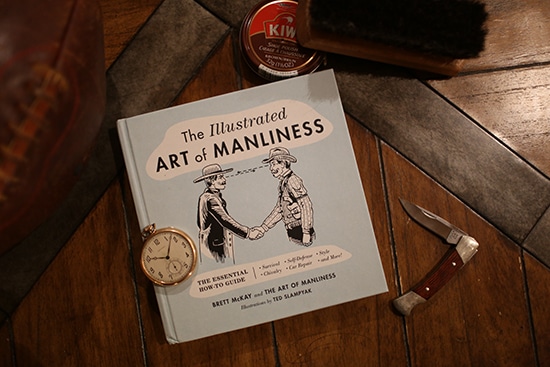 Way back in 2009, an illustrator named Ted Slampyak emailed me wondering if we'd be interested in interviewing him for our "So You Want My Job" series. We took a look at his impressive portfolio and thought he would be a great fit for an installment.
A year later in 2010, I got the idea of creating some vintage-inspired illustrated guides — the kind you'd see in old Popular Mechanics magazines or how-to books. I started trolling the web looking for an illustrator that could do that kind of work. After a fruitless search, Kate reminded me, "Remember that guy Ted we interviewed a year ago? He does that sort of stuff."
I couldn't believe I forgot about Ted.
So I sent him an email pitching my idea. He said he was game and so began a fruitful seven-year partnership.
Our signature illustrated guides have become one of the most popular features here at AoM. We've produced hundreds of them over the years and several have gone viral on the interwebs. It's no surprise why. Ted has a knack for creating detailed, easy-to-understand illustrations while simultaneously injecting humor and a little vintage charm into the art. They're both useful and fun.
Seven years later, we've decided to turn that illustrated guide concept into a full-fledged hardcover book — something you could keep on your nightstand or next to your toilet to perennially refresh yourself on the ins and outs of manly skills.
After working tirelessly on it all of 2016, Ted and I are proud to announce that the finished book is ready to go and will soon be released!
I'd like to introduce you to your next favorite Art of Manliness book: The Illustrated Art of Manliness.
The Illustrated Art of Manliness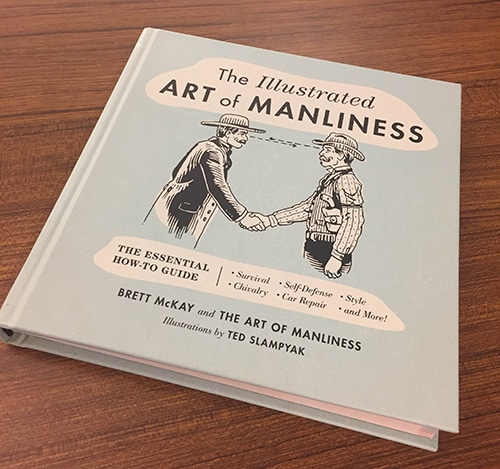 When life tests a man's mettle, he needs the wisdom to know the right thing to do, the courage to start it, the skill to complete it, and the style to look sharp along the way.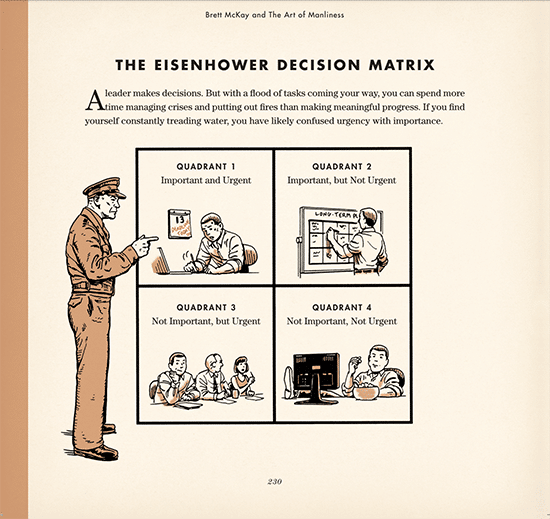 The Illustrated Art of Manliness is your go-to guide for all of the above. It distills more than 100 practical skills every modern man should know into an entertaining, easy-to-follow visual format. We've taken some of the most popular illustrated guides we've published on the site and combined them with many never-before-seen ones to create a handsome hardcover book — over 60% of the content is brand-spanking new!
We've organized the book into six roles a man should take on during his life:
The Adventurer
The Gentleman
The Technician
The Warrior
The Family Man
The Leader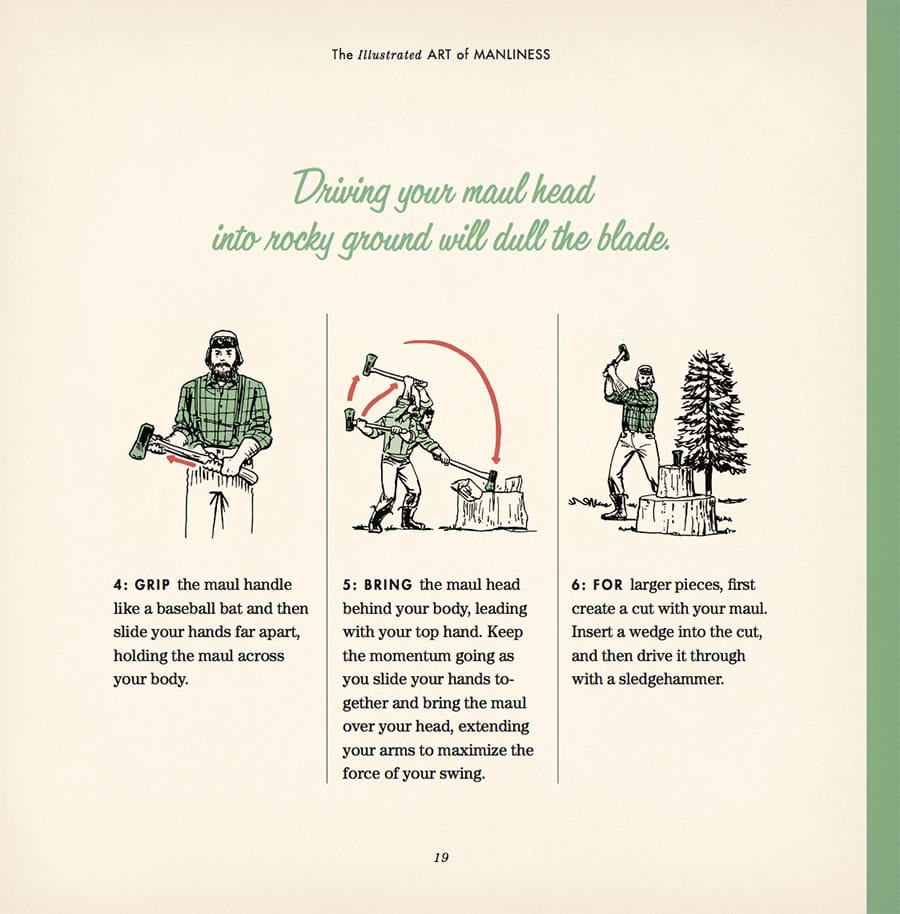 In The Illustrated Art of Manliness, you'll find charming, vintage-inspired illustrations that cover how to:
Match a shirt and tie
Grill a perfect steak
Pick a lock and break down a door
Defend your family from an active shooter
Use every tool in your toolbox
Do the perfect push-up and pull-up
Start a fire without matches (and make a torch like Indiana Jones)
Escape from the trunk of a car
Deliver a baby
Magic tricks every cool uncle should know
Land a plane or jump from a speeding car
Dress for a job interview
Develop charisma
Lead a meeting and command the attention of a room
And much more!
It's the ultimate guide to becoming a better husband, father, friend, and citizen — part of a new generation of great men.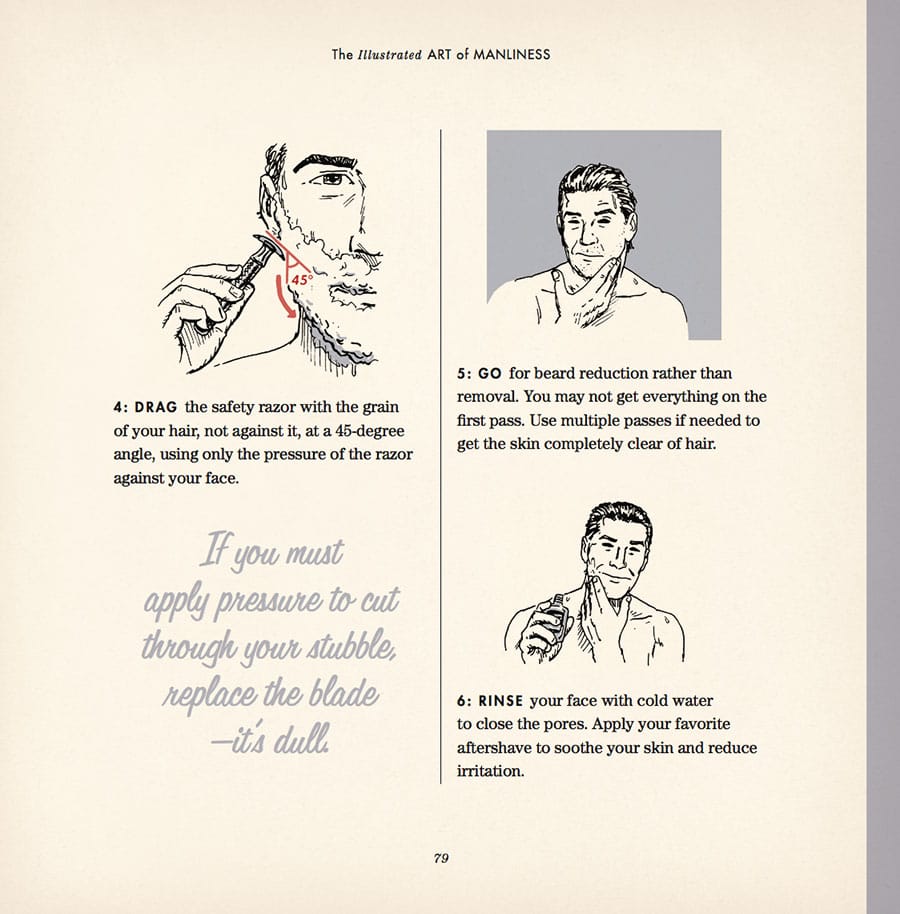 I'm really proud of how this book turned out. It looks really sharp. We wanted to create something that looks and feels like what you'd find on your grandpa's bookshelf and would want to pass on to your son. Our publisher, Little Brown, did a bang-up job with laying out and designing The Illustrated Art of Manliness. 
The book officially launches May 16, 2017, but you can pre-order the book from Amazon and other online book publishers.
Pre-Order The Illustrated Art of Manliness
If you've been following AoM since our start in 2008, you know that I rarely ask for anything from our readers in return for the reams of high quality, totally free content we put out — you all just reading and sharing our articles is support enough. But I do have one quick favor to request.
If you feel like you've gotten anything out of reading the free content we've published on AoM all these years, please pre-order a copy (or 2, or 5, or 10!) of The Illustrated Art of Manliness today. 

Pre-order sales have become an important factor for publishers and booksellers in determining how much to promote a book (or stock it on store shelves) and we could use all the help we can get. Big pre-order sales numbers can help attract attention from other media outlets as well, which will allow us to get the book and the message of the Art of Manliness to a wider audience.
You can pre-order the book on Amazon.com today and you'll have it in your mailbox the day the book releases on May 16. Once you get a copy of the book and give it a read, please give us a review on Amazon, as that helps the rankings there.
The book is available in both hardback and ebook, but I highly recommend picking up the former version. The visual nature of the book just lends itself far better to a physical format.
The Illustrated Art of Manliness makes a great Father's Day and graduation gift, so buy a copy for yourself and several more as gifts for others.
Other Ways You Can Help With The Illustrated Art of Manliness Launch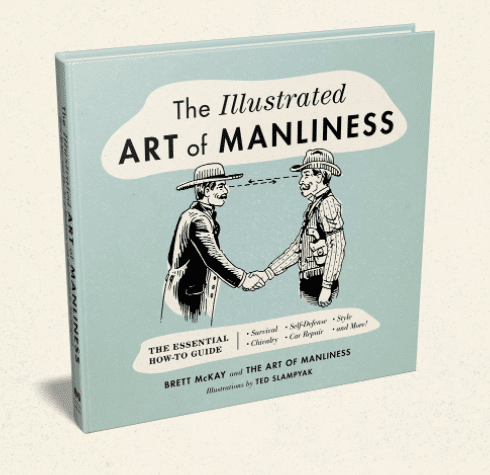 Besides buying boatloads of copies of The Illustrated Art of Manliness, we'd appreciate your help in spreading the word about it. Here are a few ways you can do so. All of them are easy and take just a minute or two:
Tweet, email, text, and Facebook share messages about the book to your friends and family.
Once you get your copy in the mail, post a picture of it on Instagram and link to the book's webpage.
Give the book a review on Amazon once you've looked through it.
I can't wait for you to get this book. You're going to love it.
Thank you for your continued support of the Art of Manliness. It really means a lot to Kate, Jeremy, and I.
Stay manly!