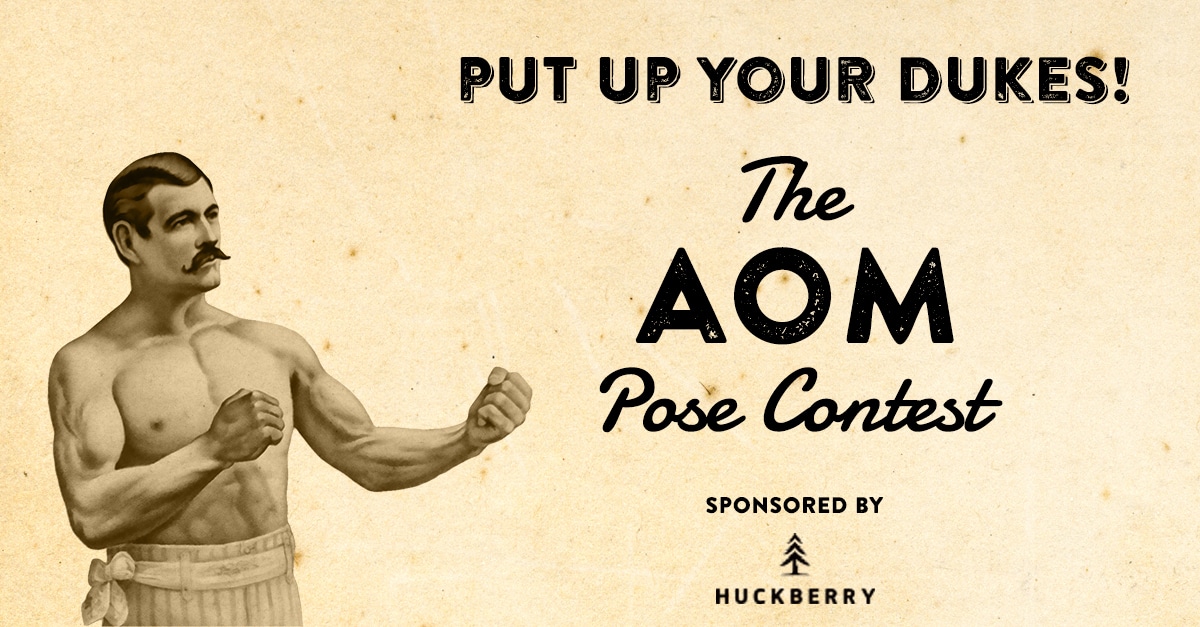 A few years ago we did a fun contest where guys submitted pictures of themselves striking the famous symbol by which the Art of Manliness has come to be known: John L. Sullivan's bareknuckled pugilist pose. The contest was a ton of fun, and we thought it was high time we do it again.
Show Off Your Art of Manliness Pride: The AoM Pose Contest
Are you an Art of Manliness man? Are you a guy who's dedicated to bringing back real manliness and making your corner of the world a little manlier each day? We want you to show off your Art of Manliness pride by taking a picture of yourself striking your best AoM pose.
See John L.? That boxer guy at the top of the site? See how he has his two fists up?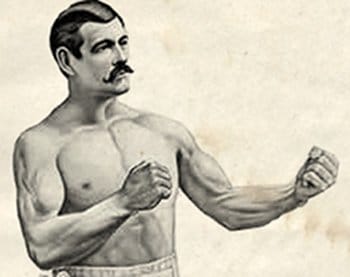 That's the AoM pose. Any person who assumes this pose will feel 100 times manlier (even women and children and women-children). Go ahead – try it!
Did you feel the testosterone course through your body? Of course you did.
Are you feeling inspired now? Good. Here's how you can enter this contest.
The Rules
Step 1. Follow us on Instagram.
Step 2. Take a picture of yourself striking your best AoM pose. You can get as creative as you want with your picture. Make it sparse and simple or add costumes and props. So long as you have your two dukes up, you're golden. Have fun!
Entries are limited to one per person; anyone who submits more than one entry will be automatically disqualified. Only submit your very best shot!
Step 3. Upload your photo to Instagram and tag it @artofmanliness #putupyerdukes.
Deadline to submit is Thursday, October 15, 2015 by 5 PM CDT. You can upload your photos anytime before or on that day.
Selecting the Winner
After we receive the photos, we will pick the 5 best entries and post them on the site. Starting October 21, 2015 and running until November 4, 2015 voting will be open to the public here on The Art of Manliness website. The AoM pose with the most votes by 5 PM CDT on November 4, 2015 will be named the winner.
Just to get your juices flowing with how awesome you can make your pose, take a look at the winner from the last time we did this contest: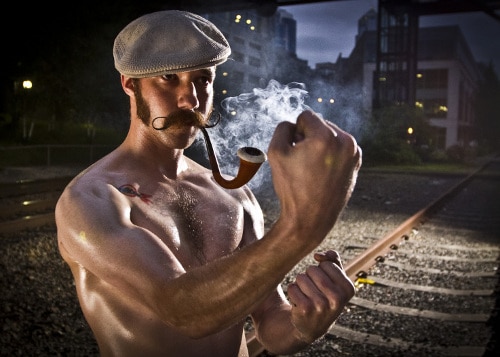 The Prizes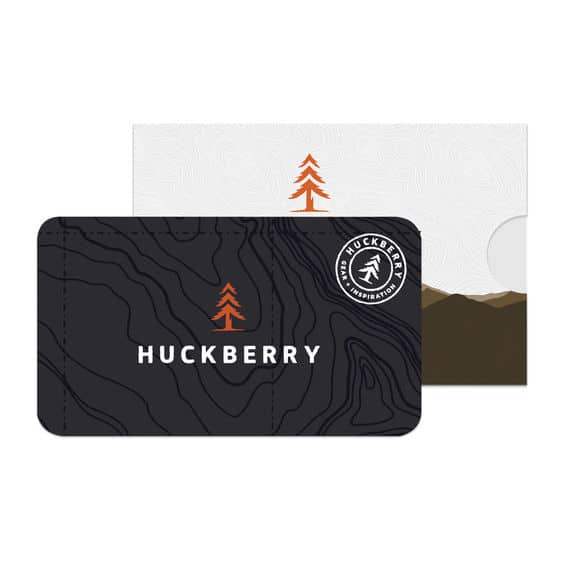 Grand Prize: For such a virile contest, we couldn't think of a manlier prize than a $500 Huckberry Gift Card. Go on a shopping spree and buy whatever you want from the amazing offerings available on Huckberry. John L. Sullivan would battle a hundred men at the same time for a hundred rounds to win such an awesome prize.
In addition to the gift card, the Grand Prize winner will also get a Semper Virilis Buck Pocket Knife and an AoM Lapel Pin.
First runner up:  Our first runner-up will receive a $150 Huckberry Gift Card, Semper Virilis Buck Pocket Knife, and an AoM Lapel Pin.
Second-runner up: Our second runner-up will receive a Semper Virilis Buck Pocket Knife and an AoM Lapel Pin.
Big thanks to the awesome guys at Huckberry for sponsoring this contest!
What are you waiting for? Show your Art of Manliness pride, strike your AoM pose, take your picture, and enter today!
NO PURCHASE NECESSARY.  Legal residents of the 50 United States (D.C.) 16 years and older. Ends 11/04/15. Void where prohibited. By submitting your photo, you grant AoM the non-exclusive right to use it for promotional purposes on their site and other platforms like facebook.com/artofmanliness. Basically, you maintain the copyright, and you just give us permission to publish it on the site. Capeche? For complete rules see our rules page.