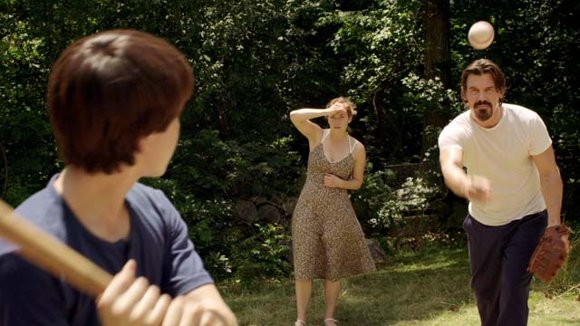 Editor's note: This is a guest post by Nate Pedersen.
The 2013 film Labor Day is a sentimental nod to the values and virtues of another era. Accordingly, it was slammed by critics for being too open-hearted for our cynical age. While the story is set over the course of Labor Day weekend in 1987, it screens more like a 1950s melodrama.
Narrated from the present day by an absent Tobey Maguire reflecting back on a memorable weekend from his childhood, the film's action unfolds over the course of three hot, summery days. Thirteen-year-old Henry (Gattlin Griffith) lives with his depressed and reclusive mother Adele (Kate Winslet). During a trip to a local store, a mysterious, injured stranger (Josh Brolin) forces Adele and Henry to take him to their home to help him recover. During the next three days, this man — Frank — becomes the father figure Henry sorely desires and the man Adele desperately needs.
Written and directed by Jason Reitman from a novel by Joyce Maynard, Labor Day is a film with heart. Encased in this small-scale drama of a man on the run from the law is a meditation on the art of manliness itself.
It's important for men to have role models, a subject previously covered here on AoM. Frank — portrayed with sincerity and conviction by Josh Brolin — is an uber male. He's so good at everything he does, and handles every obstacle with such alarming patience and grace, that he almost feels unreal — an archetype of manliness rather than a man himself. Regardless, his manly code can serve as an aspirational role model to men who strive after similar ideals today.
Men should watch Labor Day for the story and the acting (while this article focuses on Josh Brolin's character, Kate Winslet is exceptional in this film as well), but will come away from the film with a heady lesson on the seven manly virtues as well:
Manliness
Frank's personal code of manliness means taking care of your loved ones, striving for excellence in your pursuits, remaining patient in the face of hardships, keeping a long-term perspective, handling obstacles with grace, and maintaining bravery and courage in all situations. It's a splendid, inspirational code.
Courage
Frank is on the run from the law — and in a spoiler alert that should only surprise the most inexperienced of movie watchers — the law eventually catches up with him. Watch the look on Frank's face when he hears the police sirens, watch where his instincts go. Instead of making a desperate run for it, he comforts his loved ones and then does everything he can to make what's coming easier for them.
Industry
Frank is a natural handyman, capable of fixing a variety of problems around the house. And, as proven in one of the most memorable scenes in the film, a baker par excellence as well. (He's so good he doesn't even need measuring cups; you try baking a pie without measuring cups.)
Resolution
In the face of the obvious obstacles that come with being on the run from the law, Frank is resolute and focused. Watch him in his first scene in the film — as a viewer you're not yet sure if you can trust him — but his intensity and focus are captivating. He knows what he needs and is pursuing those goals with admirable resolution.
Self-Reliance
While he seeks love and family, Frank is unquestionably self-reliant. How else do you get through 15 years in prison? Frank's patience and extraordinary long-term perspective are inspirational to men striving after long-term goals today.
Discipline
Frank's personal discipline is obvious — here is a man who has complete supremacy over his emotions and actions. He never loses control. When he acts on impulse — like when he holds Adele — he is instinct filtered through the lens of self-mastery.
Honor
Frank has been ruled a criminal by a court of law, but he operates by a strong personal sense of honor. My favorite example of this is how he interacts with the mentally disabled neighbor boy who spends an afternoon with Henry and Adele. Frank treats the boy with honor and dignity — aspects sorely missing from the boy's personal life — and in so doing shows the audience his own admirable code of honor.
Labor Day is a refreshing film in an era where we are losing manly role models on the big screen. Sure, I enjoy some modern comedies, but they're terrible examples of manliness in action. You can be as slovenly and unmotivated as you like, and as long as you're "funny" you'll get the girl in the end. That's damaging for men who seek to improve themselves, their relationships, and the world around them. We need more films like Labor Day to inspire us to seek after bigger ideals. It is a captivating and involving film; a small story with a big heart. And I think we could use some more of that today.
Labor Day is currently streaming on Netflix and Amazon Prime, and is available on DVD. Give it a watch this weekend!
_________________
Nate Pedersen is a librarian, journalist, and editor in Bend, Oregon. Before becoming a librarian in Oregon, Nate worked for rare book dealers in North Carolina and Scotland. He collects the American Guide Series produced by the Federal Writers' Project during the Great Depression. His website is http://natepedersen.com.
Last updated: July 26, 2016