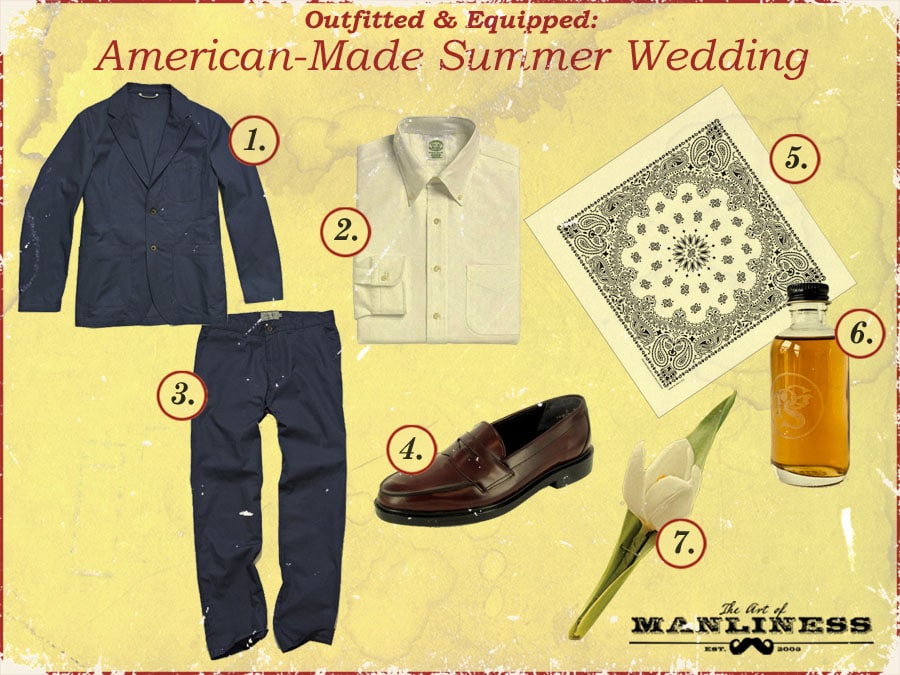 How does Outfitted & Equipped work? The FAQ.
Editor's note: This gallery was curated by Brad Bennett. Mr. Bennett is the Founder and Editor of Well Spent, a site that features men's goods that are attractive, affordable, and made in the USA or similar first-world/non-sweatshop conditions.
I got married this past weekend. After already having been together for eight and a half years, my wife and I (the novelty of writing that still hasn't worn off) wanted our wedding to feel more like a really fun party, and less like some big, formal event. We held the ceremony and reception in a converted barn, we had our favorite local bar handle the drinks, and we served artisan-made pizzas for dinner. We also kept our outfits relatively casual too.
For this month's O&E, I've put together a more cost-conscious version of what I wore. While I decided to splurge on a few things for the big day, the 100% American-made get-up below – which includes a suit, shirt, and shoes – clocks in at a very reasonable $580. Still more than you'd pay at Men's Wearhouse, but these clothes will fit better, last longer, and, they were all made in humane and equitable conditions.
1. The Blazer. I went with the Barracks Blazer from NYC's Cadet. The jacket is unstructured, meaning it has no lining or padding, which is always a plus for summer. Unfortunately, most of the sizes of the navy jacket have sold out, however, there's a blue-gray version that's still in stock.
2. The Shirt. I opted for an Extra-Slim Fit Oxford from Brooks Brothers. It fits great (also has snugger shoulders, higher armholes, and a slimmer chest), is expertly made in North Carolina, and costs less than $100.
3. The Pants. I paired the Barracks Blazer with these PFC Pants, also from Cadet. Both these and the blazer are made in Brooklyn out of a summer-friendly cotton twill, and have a modern slim fit (read: snugger shoulders, higher armholes, slimmer chest, and slightly shorter length for the jacket, and a narrower thigh and leg opening for the pants).
4. The Shoes. The Halifax Penny Loafers from Johansen Shoes are an incredible bargain. Primarily a military contractor, Johansen also offers a wide array of genuine leather dress and casual shoes for civilians, all of which are proudly made in the US (thank you Berry Amendment).
5. The Hanky. I'm not ashamed to admit that I bawled like a baby during the ceremony. Thankfully, I had one of these super-affordable American-made bandanas to mop up my tears.
6. The Scent. I was wearing the Whiskey Cologne from Portland General Store, which kept me smelling good, despite the summer heat and pre-ceremony jitters.
7. The Flower. My wife is originally from Holland, MI, so for her bouquet, the florist put together a beautiful arrangement of white tulips, and made me a matching white tulip boutonniere.
All in all, it was a wonderful day, filled with delicious food, great drinks and some of our favorite people in the world. And now, we're off to Costa Rica for a week of fun, sun, and computer-free living. I'm expecting some major withdrawal.
Last updated: July 14, 2016