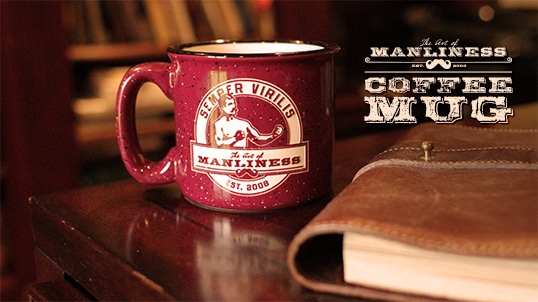 Back in June we launched our hefty and manly AoM Coffee Mug.
We sold out of them in one day.
We had a bit of a delay in restocking, but we finally got a new shipment of mugs in that are ready to be sent out to loving homes all around the world.
Like I said back in June, I spent a year looking for the perfect coffee mug to use as AoM's official hot-liquid vessel and the wait and work paid off.
The AoM Coffee Mug is made of ceramic and is thick-walled to keep your soups, stews, and beverages hotter, longer. This bad boy weighs in at a hefty 1.3lbs and holds a healthy 15oz. Its vintage shape and speckled finish is reminiscent of old camping mugs that grizzled cowboys would use on the trail. And the large, three-finger handle makes for comfortable holding even for hands so big and meaty that one alone could span a large cast iron skillet. 
Emblazoned on the outside is 19th century bare-knuckled pugilist John L. Sullivan with the phrase "Semper Virilis" — Always Manly — above his head. And unlike most branded coffee mugs with a chintzy printed-on design, we've deep-etched our artwork right into the ceramic, giving it a unique look that will never fade with use or wash off over time. It's destined to become a vessel of manliness that will be passed down to your posterity for generations.
Pick one up at the AoM store while supplies last. 
And when you get it, send us a pic on Instagram with the hashtag #ManlyMug so we can get a look at your ugly mug enjoying our manly mug.
Last updated: November 27, 2014