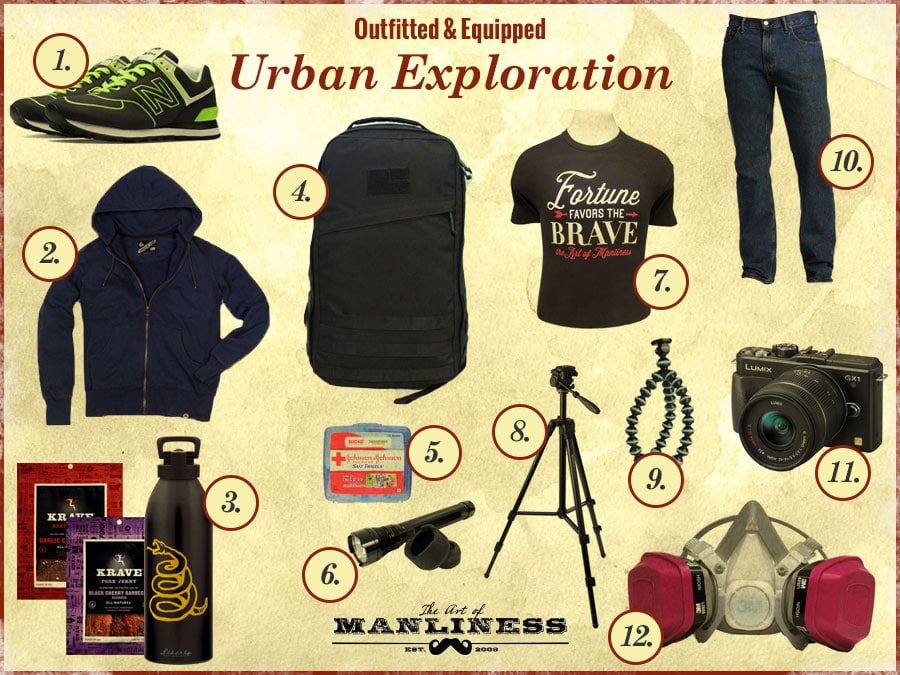 How does Outfitted & Equipped work? The FAQ.
Editor's note: This gallery was curated by urban explorer Pete Gyftakis.
Urban exploration (also known as urbex) is the exploration of structures, usually abandoned buildings/ruins or areas not typically seen by man. I got into urban exploration a little over 3 years ago. I used to work in the city of Detroit and every day I would pass by dilapidated structures — my curiosity eventually led me to ask, "I wonder what that used to be?" and "What does the inside look like?" So one day I built enough courage to walk inside an old church built in 1924, and my jaw dropped to the floor. I was instantly hooked.
While I do not photograph professionally, it is a passion of mine, and the two hobbies really go well together. By uncovering new environments in my hometown, I discover some incredible backdrops for my photography. My main subject of interest is discovering the beauty in decay and abandonment. The thought and notion of "what once was" intrigues me. From rooftops, old churches, theaters, industrial buildings, or simply old houses that have a rich character, I'm fascinated with the deep roots and history of old buildings.
I loved urbex so much that I decided to start an Instagram community (@JJ_Abandoned) that features beautiful abandonment from all over the world. Today we are one of the largest and most active communities on Instagram.
In this gallery, you will find what I bring and wear on my urbex expeditions. Below is a look at the places I've discovered on these adventures. I hope they inspire you to explore your own city. Just make sure you understand the legal and ethical issues concerning this pursuit first.
1. The Kicks. New Balance Neon Lights. Wear a comfortable pair of shoes. This amped up version of a New Balance classic features fluorescent coloring, ensuring you'll see your feet in even the darkest tunnel.
2. The Hoodie. American Giant Full Zip Sweatshirt. Especially during the cooler months, you want to dress in layers. The temperatures cannot only change outside, but can alternate in the different environments you enter.
3. The Snacks and Water. Krave Jerky and Liberty Bottleworks Gadsden. Some explores can take hours, so it's good to stay hydrated and sustain your focus and energy.
4. The Backpack/Camera Bag. GORUCK GR1. When urban exploring, you are often climbing fences, stairs, and going through tight or unstable spaces. It's important to have both hands free so you can easily maneuver around unpredictable areas.
5. The Just-in-Case. Small first aid kit. For minor scrapes or cuts that may occur when maneuvering in and out of these very unpredictable spaces.
6. The Light. Defiant ArmorMax Tactical Flashlight. Many of the places we explore are dark or have dark entry points so it's key to have a good flashlight to navigate into the areas you want to capture.
7. The Tee. AoM Fortune Favors the Brave. Again, keep in mind that your clothes may get dirty or tear as you're crawling under fences, squeezing into rough places, and climbing ladders.
8. The Mount. Magnus PV-7450M. If you like to shoot HDR or if the locations are dark, a tripod is a necessity. A longer exposed shot will garner higher quality results.
9. The Mobile Mount. Joby GorillaPod. You can mount this tripod to just about anything so you can get the primo shot.
10. The Pants. An old pair of jeans. Wear pants that are durable, and that you don't mind getting dirty or ripped.
11. The Camera. Panasonic Lumix DMC-GX1. This camera will allow you to control the settings and shoot properly no matter what the conditions are. With the quality of smartphone cameras these days, it's always a good idea to bring your mobile device to supplement your digital camera, especially if you plan on using your shots on social networks. It's highly recommended that you bring spare lenses (depending on what you shoot), extra memory cards, and battery, just in case.
12. The Clean Air. 3M Tekk Respirator. If you want to be safe, it's recommended that you wear a respirator, as many exploring locales contain asbestos, mold, and other airborne bacteria. This face mask/respirator will help you breathe cleaner air and avoid respiratory infections.
Photo Tour of Urban Exploration
Last updated: October 9, 2017