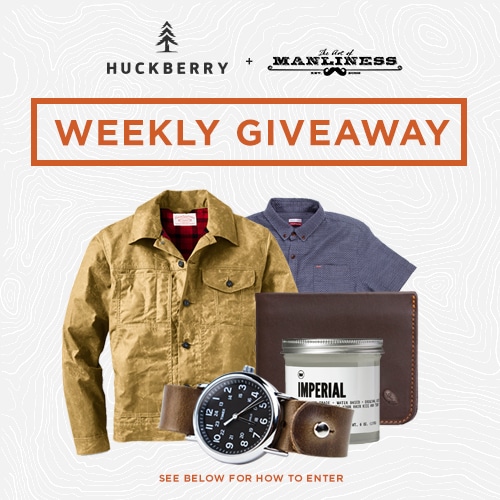 Our last winner, from three weeks ago, was Rich S. from Detroit. He chose one of the great solar bags from Birksun.
My Picks This Week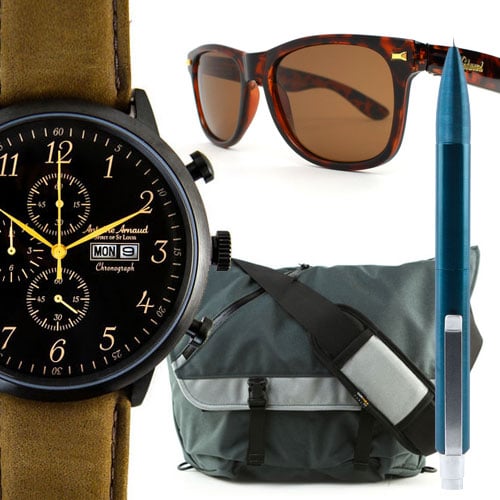 The Spirit of St. Louis watches from Antoine Arnaud are classically handsome and inspired by Charles Lindbergh and old aircraft displays. I love this watch and just picked one up for myself and can't wait for it to arrive. The Ogden Made messenger bags are perfect for your summer adventures — big enough to hold all your essentials (be it a hike map and snacks or a Macbook and Moleskine notebook), and tough enough to stand up to any beating you could give it. These are handsigned by the fellas who make 'em. The pens from Tactile Turn are no ordinary pens. This click-pen is totally silent, and perfectly symmetrical and balanced, meaning both your co-workers and your hands will thank you. The Knockaround sunglasses are one of Huckberry's all-time bestselling items — they're stylish and yet cheap enough to wear to the beach without worrying about losing them in the sand.
The Prize
Any item currently available on Huckberry (with the exception of the Joey Roth speakers). Be sure to check out the current line-up of items as it changes every week.
How to Enter
Leave a comment sharing what you'd like to win.
Sign up for Huckberry to gain access to their  store. You have to sign up because the store and the discounted prices are not available to the public. Just so we're clear, if you sign up for Huckberry, you're opting into receiving weekly emails from Huckberry on their exclusive deals. You can unsubscribe anytime you want.
Take a look around, pick one item you'd like, and leave a comment on this post sharing your selection.
Do not make multiple comments. All comments are moderated, so your comment will not show up instantly, but will show up later once it's approved.
If you are an email subscriber, do not reply to this email to make your entry. You must click on the title of this post, which will take you to the post on our web page. You must make your comment on the post on our web page to be entered.
Deadline to enter is July 17, 2014 at 5PM CDT.
We'll then draw one random comment to select the winner. The lucky gent will get the item they selected and shared in the comments. Good luck!
Last updated: July 19, 2014