Back in February of this year, we released our third book, Heading Out On Your Own: 31 Basic Life Skills in 31 Days. It's a primer for the young man who's just graduated high school or college and is about to enter the adult world for the first time. With school over and hundreds of thousands of young men ready to start a new chapter in their lives, we thought it would be fun to do a huge giveaway that will outfit and equip one lucky Art of Manliness reader with the clothing, gear, and knowledge he'll need to navigate the world on his own.
Here's what's up for grabs: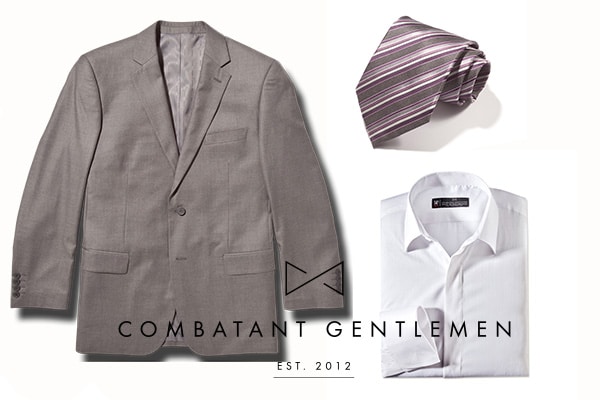 Every man needs at least one well-fitting suit. Even if you don't have to wear a suit for your job every day, you'd be surprised by the number of times you'll need to don one as an adult: weddings, funerals, job interviews, speeches, award ceremonies, civic events, etc. Instead of borrowing an ill-fitting suit for these occasions, you should get a suit now that will look good for years and ready you for any event.
But we get it. When you're just starting out in life, you don't have much money to fork over for an expensive get-up. That's where Combatant Gentlemen comes in. Combatant Gentlemen offers quality men's suits and shirts at affordable prices. Suits start at $160; shirts at $25; and ties at $16. The reason Combatant Gentlemen is able to keep prices so low is that they're completely vertically integrated — they own the sheep that makes the wool for their suits, the wool mills in Italy that make the fabric, and the factories that make the suits and other clothing. Plus, they're completely online, so there are less overhead costs.
Besides suits and ties, Combatant Gentlemen also offers affordable raw and selvedge denim, chinos, and knit sweaters.
Combatant Gentlemen is giving one lucky Art of Manliness reader a $500 gift card to help them get their new grown-man wardrobe up and running. That's enough to buy not just one, but two suits, along with a couple of shirts and some ties as well. The foundation of your professional wardrobe will be all set with this gift card.
To sweeten the pot, Combatant Gentlemen is giving all Art of Manliness readers a free tie with any purchase. You don't even have to win the giveaway! Just use the code "ArtofManliness" to redeem your free tie when you check out.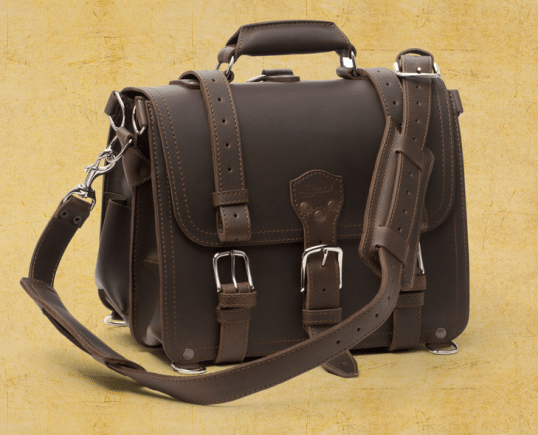 Since a young man heading out on his own will need something to carry all of his stuff, we didn't want to stop with just furnishing you with new duds. Unless he's going into the messenger bike biz, the old backpack he used in college won't cut it in the professional world. That's why we're also including a handsome Saddleback Briefcase in the Heading Out On Your Own prize package. This is Saddleback's legendary medium-sized tobacco brown briefcase. This fine piece of leathermanship will make you feel manlier simply by looking at it. Not only do Saddleback briefcases look incredible, they're built to last. In fact, all of Saddleback's products have a 100-year guarantee. Your grandkids will fight over who gets your briefcase when you're dead.
Plus: A Signed Copy of Heading Out On Your Own (Sponsored by the Art of Manliness)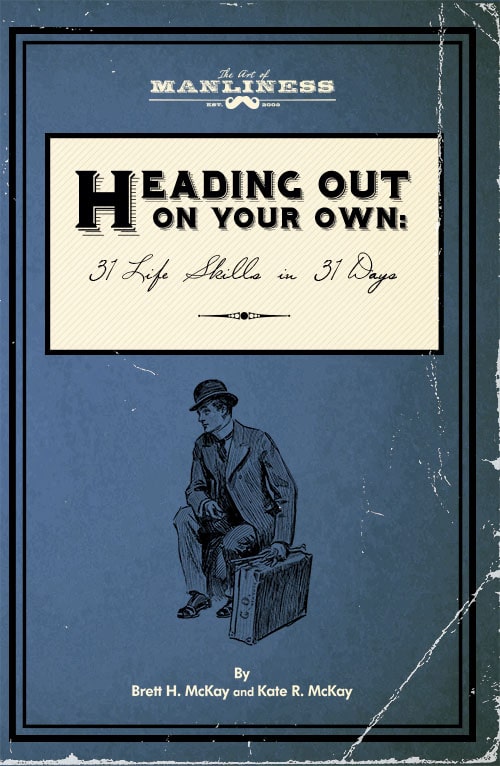 With a new suit and a manly bag on your shoulder, you'll look like you're ready to navigate the world of men; with our latest book, Heading Out On Your Own, you'll have the knowledge you need to actually hit the ground running.
The goal of Heading Out On Your Own is simple: to help young men learn some of the very basic life skills they need to master to succeed at living independently. While we couldn't possibly include every single life skill a young person needs to have under his belt, this book covers all of the most important essentials. I can confidently say that Heading Out On Your Own is by far the most thorough, comprehensive, and imminently readable one to ever have been published.
Here are just a few of the things you'll learn how to do in Heading Out On Your Own:
Develop a Self-Reliant Mentality
Do Laundry
Ace a Job Interview
Create a Budget
Make Small Talk
Rent Your First Apartment
Create a Weekly Attack Plan
Shop for Groceries
Live With Roommates
Maintain Your Car
Cook
Iron a Dress Shirt
And Much More!
Total Value of Prize Package: $1080!
How to Enter
Visit Combatant Gentlemen and pick out the suit and tie you would buy with your $500 gift card if you won. Leave a comment on this post sharing your selection. We'll select one random comment to determine the winner of the Gift Card+Briefcase+Book. Contest is open to U.S. and international readers. Deadline to enter is July 4, 2014 at 5PM CT. 
Update: Congrats to our winner, Collin S., of Brookings, SD!
Last updated: July 23, 2014