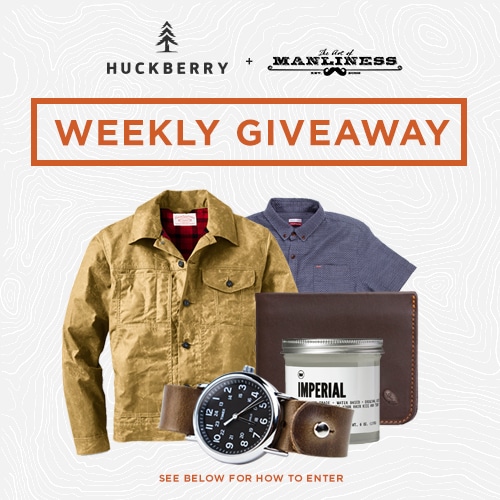 Last week's winner was Eric M. from Wilmington, DE. He went with the Bolt Aluminum Pen.
My Picks This Week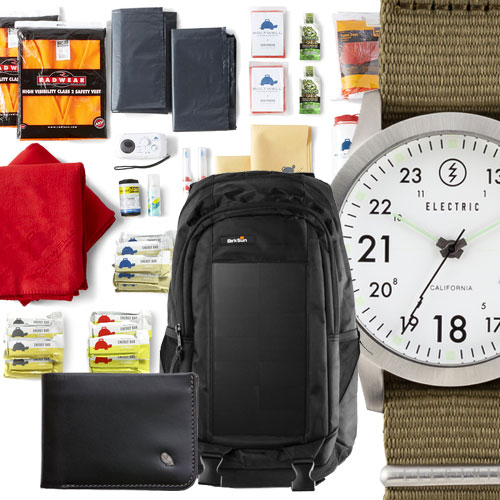 The boxes from Boltwell give you a ready-to-use arsenal of supplies for a variety of emergency situations — from a 72-hour disaster kit to essentials for your pooch. Included in the kits are handy items like water purification tablets, hand warmers, multi-tools, matches, etc. The watches from Electric are a new offering from the company, and are every bit as stylish and functional as the sunglasses they're better known for. The slim, top-quality wallets from Bellroy are ever popular with the Huckberry crew — and as they like to say, "I got 99 problems but a fat wallet ain't one." The bags and gear from Birksun combine rugged outdoorsiness with modern innovation; they have solar panels that can charge your electronics whenever and wherever. Now you've got something to power your Survival Kindle come hell or high water.
The Prize
Any item currently available on Huckberry (with the exception of the Joey Roth speakers). Be sure to check out the current line-up of items as it changes every week.
How to Enter
Leave a comment sharing what you'd like to win.
Sign up for Huckberry to gain access to their  store. You have to sign up because the store and the discounted prices are not available to the public. Just so we're clear, if you sign up for Huckberry, you're opting into receiving weekly emails from Huckberry on their exclusive deals. You can unsubscribe anytime you want.
Take a look around, pick one item you'd like, and leave a comment on this post sharing your selection.
Do not make multiple comments. All comments are moderated, so your comment will not show up instantly, but will show up later once it's approved.
If you are an email subscriber, do not reply to this email to make your entry. You must click on the title of this post, which will take you to the post on our web page. You must make your comment on the post on our web page to be entered.
Deadline to enter is June 26, 2014 at 5PM CDT.
We'll then draw one random comment to select the winner. The lucky gent will get the item they selected and shared in the comments. Good luck!
Last updated: June 23, 2014