It's been five years since we last updated our site's design, so we figured it was time to spiff things up here a bit to make the experience better for our readers.
Welcome to the brand new Art of Manliness.
Here's what's new:
Updated Homepage For Archival Content Discovery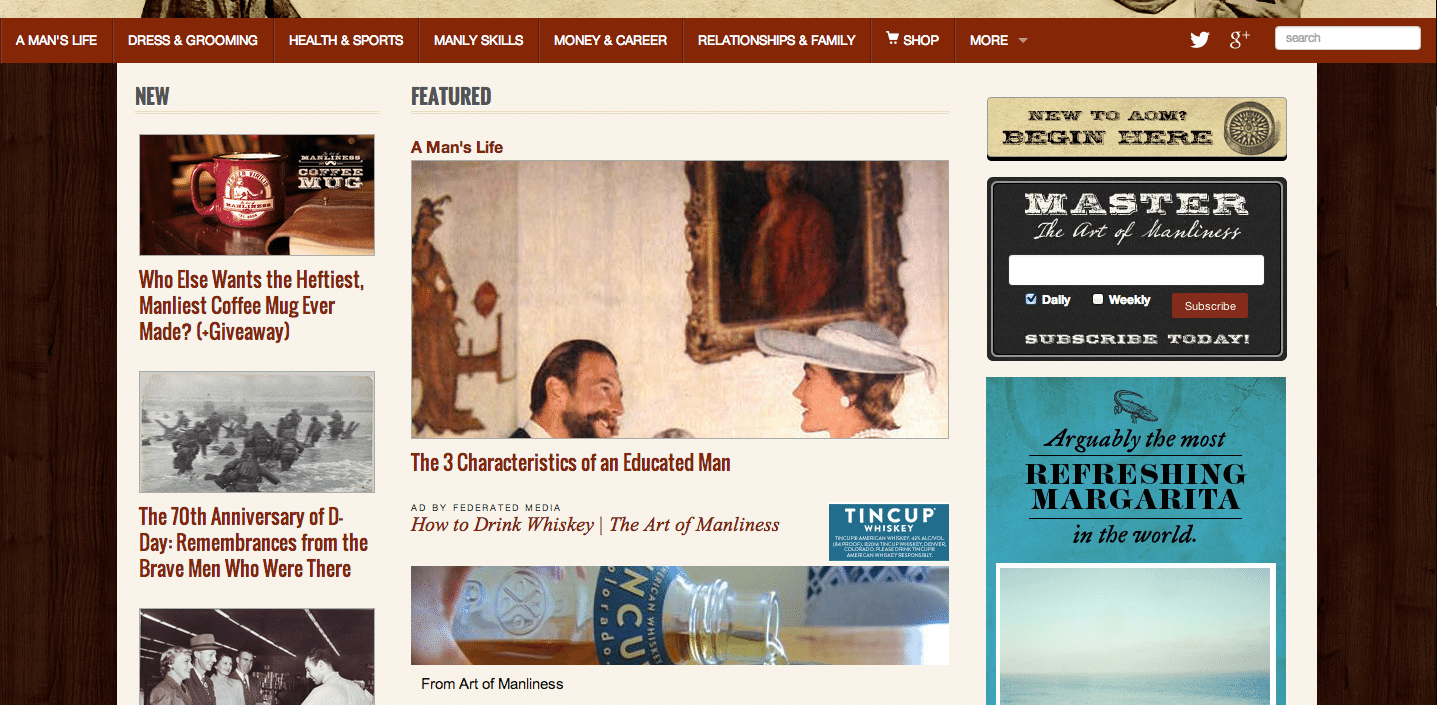 One of our top goals with the site redesign was to make finding content from our archives much easier for folks. We've published over 2,000 articles on the Art of Manliness since 2008 and the vast majority of them are still just as relevant and useful today as they were a few years ago. To that end, we've created two content columns on the homepage. The far left column consists of our most recently published content displayed in reverse chronological order. In the middle you'll find our featured content column where we'll post some of our favorite archival content from our various categories. We plan on changing that every week to keep it fresh and help you discover some gems from the past.
Cleaner Look
We wanted to give the site a cleaner, more modern look while simultaneously keeping the vintage aesthetics that AoM is known for. We did that by using fonts that are much easier to read on a computer screen and by making some subtle style elements a little crisper. I think it looks great. We've also done some things to speed up page-load time.
Easier Navigation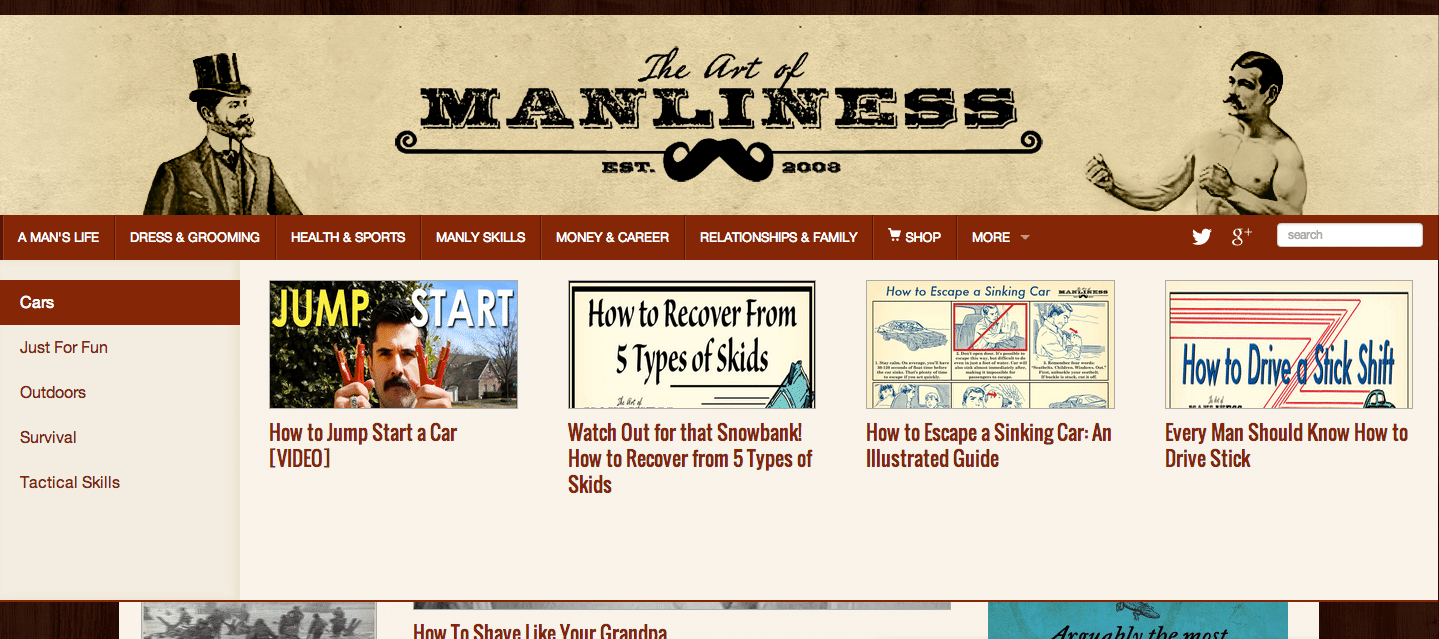 We spiffed up the menu bar to make navigating and finding new content easier. The nav bar stays at the top of the page as you scroll down. The site search box sets in the nav bar for easy access. We had a search box on the old site design, but people could never find it.
When you hover over a category button, the menu drops down to reveal thumbnails of our four most recent posts from that particular category. You can also hover over the sub-categories on the left and the thumbnail line-up will change. Again, the goal is to make finding content easier.
Mobile Friendly!
For the past few years we've been using a service that created a mobile version of our site. I had high hopes for it, but it continually sucked. The mobile version of the site was slow, glitchy, and crashed people's browsers on their smartphones. There wasn't a day that went by that I wouldn't get some complaint about it on Twitter. Sorry everyone.
So one of my top priorities with this redesign was to make it mobile friendly so we could ditch that mobile site provider. We've succeeded. The new Art of Manliness is responsive, meaning that it will change the way it looks to fit the device you're reading on. If you're on your laptop, you'll see all the columns on the homepage; if you're on a tablet or smartphone, you'll just see the most recent articles column. Reading individual pieces of content on your tablet or smartphone browser is easy on the eyes and fast, and it's also easy to navigate our archives.
Disqus Comments
We've transferred our commenting system to Disqus. This will allow for more in-depth discussion, thanks in large part to threaded comments, voting, and being able to include images and the like in your comments. If you haven't already, I highly recommend signing up for Disqus below.
You'll also notice that the comments aren't visible right away and that you have to click "Show Comments" to see them. We did that for a few reasons. First, our analytics showed that hardly anyone made it down to the comment section. It was like 1% of readers. So why load a giant list of comments on the site that hardly anyone is going to read? Second, some people (myself included) find that comments distract from the article. You're really enjoying something and then get to the comments, and suddenly want to stick a fork in your eye. The comments are still there for those who get a kick out of them, but for those who'd like to abstain, we've made fighting the temptation easier.
That's pretty much it. We'll be tweaking stuff over the next few days and adding some finishing touches. If you notice any bugs or glitches, let us know in the comments (I promise to read them!).
Thanks to Screen Four Solutions!
I want to thank Eric and Hannah Granata and their team at Screen Four Solutions for their work on making this redesign happen. Eric has been doing the vast majority of the design and web stuff for AoM since almost the very beginning of the site and has continually been awesome to work with. Kate and I are extremely grateful that we crossed paths with the Granatas.
Get Your Free 30 Days to a Better Man eBook!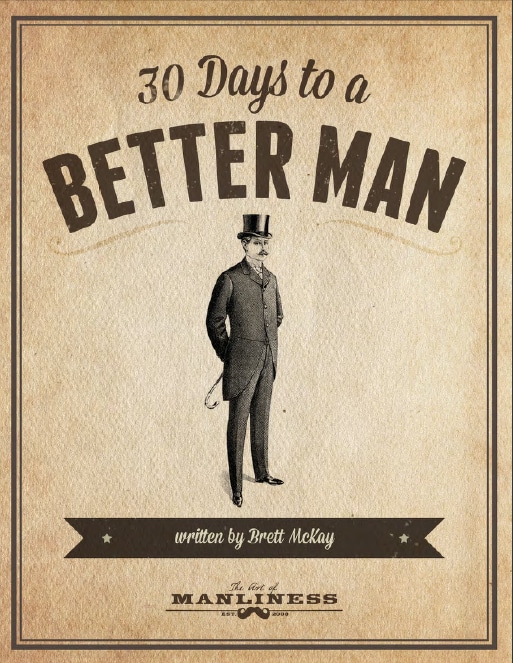 To celebrate the launch of the new redesign, we're giving away our updated version of our popular 30 Days to a Better Man ebook. I put together the first version of it several years ago, and, frankly, it didn't look very good. The updated version actually looks like a book. A very handsome book at that! It's filled with vintage illustrations and fonts that make it enjoyable to read. The ebook is 188 pages long and is filled with actionable tasks that are designed to help you become a better man in just a month.
To get your free 30 Days to a Better Man ebook, simply subscribe to our newsletter. (You may have seen a pop-up prompting you to. You'll only see it once.) You have the option of getting daily updates or one weekly digest with links to all our posts from the previous week. If you're already subscribed to our newsletter, you'll be getting an email from us in the next day or two with a link to download the ebook. If you don't want to subscribe and still want the ebook, it will be available for sale in our store in a week.
Thanks for your continued support of the Art of Manliness!