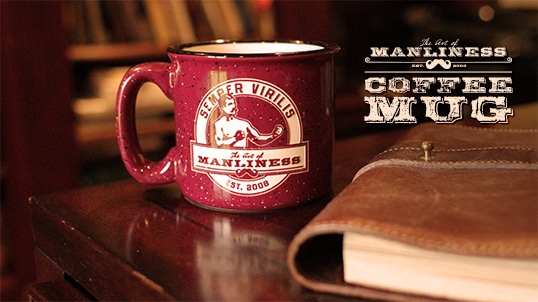 Theodore Roosevelt's son said that his father's favorite coffee mug was "more in the nature of a bathtub."
Well, the new Art of Manliness Coffee Mug would certainly get TR's grinning approval.
Since we started the AoM Shop, the most requested item that we add to the line-up was a coffee mug. So I started my search for just the right vessel to bear the AoM name. I didn't want it to be some boring, generic white mug with our logo slapped on there. I wanted something with rugged heft that held man-sized amounts of coffee (or virile quantities of hot cocoa). We searched far and wide (for nearly a year!) for a coffee mug that fit the bill. I think we reached our goal with this mug. Many of you have told us that you enjoy the latest Art of Manliness article while drinking your coffee in the morning. Now you've got the perfect accompaniment for reading your daily dose of manly wisdom and know-how. And the guys at the office will have no doubt that you mean business when you show up with the AoM Mug in tow.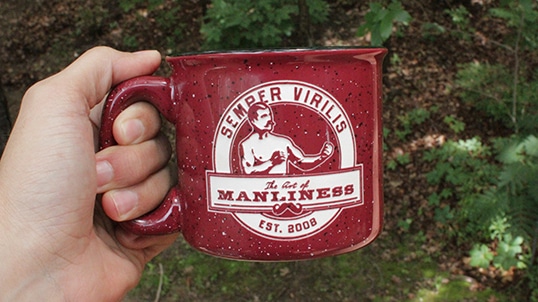 The AoM Coffee Mug is made of ceramic and is thick-walled to keep your soups, stews, and beverages hotter, longer. This bad boy weighs in at a hefty 1.3lbs and holds a healthy 15oz. Its vintage-shape and speckled finish is reminiscent of old camping mugs that grizzled cowboys would use on the trail. And the large, three-finger handle makes for comfortable holding even for hands so big and meaty that one alone could span a large cast iron skillet. 
Emblazoned on the outside is 19th century bare-knuckled pugilist John L. Sullivan with the phrase "Semper Virilis" — Always Manly — above his head. And unlike most branded coffee mugs with a chintzy printed-on design, we've deep-etched our artwork right into the ceramic, giving it a unique look that will never fade with use or wash off over time. It's destined to become a vessel of manliness that will be passed down to your posterity for generations.
You can get your Art of Manliness Coffee Mug in the AoM Shop for $19 + shipping. It even comes packaged and ready to gift. Get 'em while they last. They're selling fast.
Speaking of gifts, Father's Day is just around the corner. While coffee mugs have certainly become the cliche Father's Day gift, the Art of Manliness Coffee Mug breathes new life into this timeworn gifting tradition. Make sure your dad is drinking from a coffee mug as manly as he is. If you'd like to get the mug in time for Father's Day the safest bet would be to order by June 10 and ship USPS Priority. (Keep in mind USPS doesn't guarantee on-time delivery.)
Update: Wow! We sold out of our first batch of 350 mugs in just a day. We'll have a new batch in the store in two weeks. We'll be sure to double the order this time. Sorry for the inconvenience. 
Lower Shipping!
We've also recently worked with our shipping and fulfillment partner, ROBYN, to lower shipping costs by switching from UPS to USPS.
Other New Products!
While you're in the store getting your Art of Manliness Coffee Mug, make sure to check out our other new AoM products. We've got a new line of tees from the folks at TankFarm as well as new Know Your Lifts Posters and even a vintage-inspired baseball cap from Ebbets Field Flannels. Stay tuned throughout the year, as we have several more unique and manly products coming out soon.
Art of Manliness Store Giveaway
To celebrate the release of the Art of Manliness Mug, we're giving away one item from the AoM Shop to some lucky Art of Manliness reader. You don't have to choose the mug (though it will take some mighty manly willpower to resist) — choose anything you'd like.
To enter, just leave a comment below telling us what AoM curio you'd like to take home should your name be drawn as the winner.
One entry per person.
Deadline to enter is Friday, June 13, 2014 at 5PM CT.
PS – What are you waiting for?! Get your mug already! If you win the giveaway, you can double-fist coffee in the morning.
Last updated: November 27, 2014