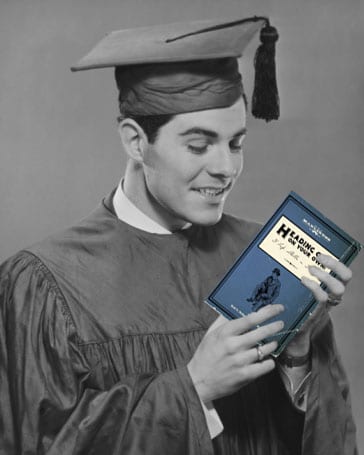 Do you know a young man graduating from high school or college? Well, then we've got the perfect graduation gift idea for you!
Our recently published book, Heading Out on Your Own: 31 Basic Life Skills in 31 Days contains just about everything a young person needs to know in order to survive and thrive while out on their own. In this 400-page book, a young man will learn how to:
Develop a Self-Reliant Mentality
Do Laundry
Ace a Job Interview
Create a Budget
Make Small Talk
Rent Your First Apartment
Create a Weekly Attack Plan
Shop for Groceries
Live With Roommates
Maintain Your Car
Cook
Iron a Dress Shirt
And Much More!
After reading every "life skills" book on the market, I can confidently say that Heading Out On Your Own is by far the most thorough, comprehensive, and imminently readable one to ever have been published.
Help a young man get a leg up on life by gifting this book to him for graduation.
Where to Purchase Heading Out on Your Own
Pick up a signed copy in the Art of Manliness Store. Signed copies of Heading Out On Your Own are now available in the AoM Store! While you're there, you can pick up some other essentials a young man needs like a handsome pocket knife.
Amazon. You can also purchase a copy on Amazon.com. The going rate is $12.20 right now, though that's subject to change according to Amazon's mysterious price algorithm.
Thanks for your support of the Art of Manliness!
Last updated: November 27, 2014