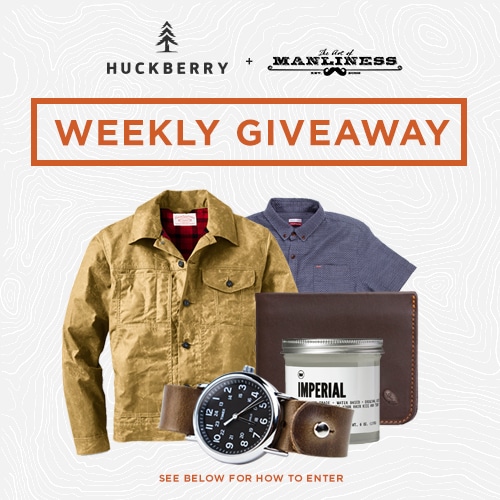 Last week's winner was Clay from Auburn, AL. He picked the Freestyle Navigator watch.
My Picks This Week
By now, we all know that every man should carry a pocket knife. The knives from Great Eastern Cutlery are a great choice, and are made with carbon steel, which is known for its ability to hold an edge. Can You Handlebar puts out facial hair grooming products that simply can't be beat, and has long been one of my personal favorites. The LifeStraw is an essential survival tool; even if you already have water rations for the apocalypse, you should have one of these on hand as well. Criquet's polos were already my warm-weather go-tos, but they've added some nice button-down shirts as well — complete with an extra layer of fabric at the bottom for twisting off the cap of your favorite frosty beverage.
The Prize
Any item currently available on Huckberry (with the exception of the Joey Roth speakers). Be sure to check out the current line-up of items as it changes every week.
How to Enter
Leave a comment sharing what you'd like to win.
Sign up for Huckberry to gain access to their  store. You have to sign up because the store and the discounted prices are not available to the public. Just so we're clear, if you sign up for Huckberry, you're opting into receiving weekly emails from Huckberry on their exclusive deals. You can unsubscribe anytime you want.
Take a look around, pick one item you'd like, and leave a comment on this post sharing your selection.
Do not make multiple comments. All comments are moderated, so your comment will not show up instantly, but will show up later once it's approved.
If you are an email subscriber, do not reply to this email to make your entry. You must click on the title of this post, which will take you to the post on our web page. You must make your comment on the post on our web page to be entered.
Deadline to enter is April 24, 2014 at 5PM CDT.
We'll then draw one random comment to select the winner. The lucky gent will get the item they selected and shared in the comments. Good luck!
Last updated: April 28, 2014