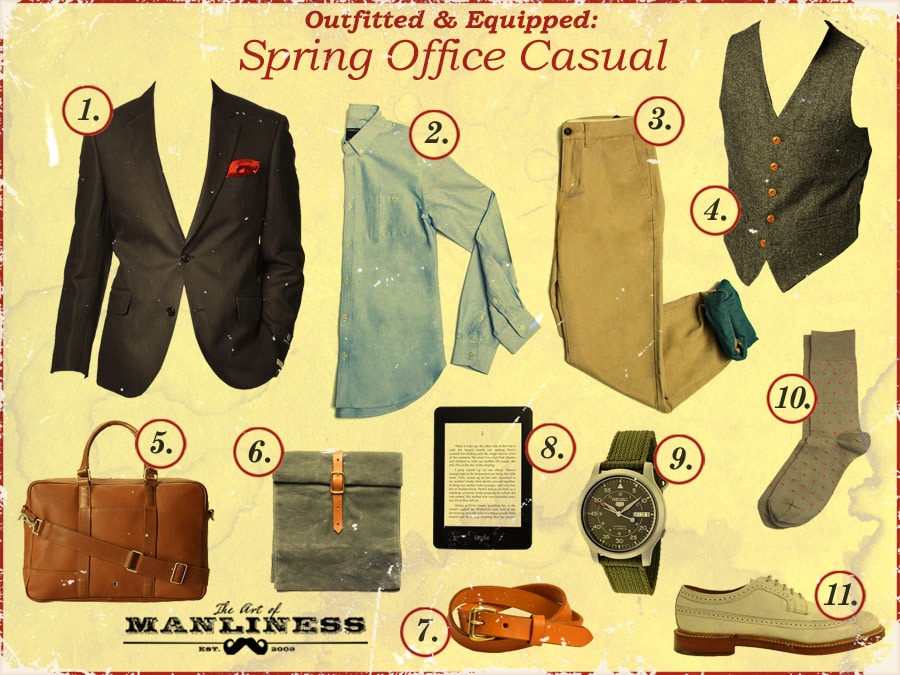 Editor's note: This gallery was curated by Barron Cuadro of The Effortless Gent.
Come spring and summer — and the warm weather that they bring — the office dress code tends to loosen a little bit. Dressing in light layers will ensure you're ready for both a warm lunch on the patio and a brisk happy-hour at a rooftop bar after work. You won't go wrong with our selections below.
1. The Sport Coat. Gagliardi Navy Linen Jacket. A linen jacket is a great spring weather staple. The fabric is light and won't overheat you. This jacket can be worn without a tie and paired with chinos for more casual occasions, and dressed up with a tie and nice trousers for more formal events.
2. The Shirt. Goodale Rutledge Oxford Shirt. A classic Oxford shirt at a great price.
3. The Pants. Goodale Clinton Chinos.
4. The Vest. ASOS Herringbone Vest. Sometimes men aren't sure of when and how to wear vests. Traditionally, vests are formal and worn over a collared dress shirt and tie, and under a jacket. But nowadays, it's easily worn more casually, such as with an Oxford button-down and silk knit tie, or sans tie. If you want to try incorporating vests into your more informal get-ups, I suggest finding one made from a more casual fabric such as linen, cotton, or tweed — like this herringbone vest. Avoid suiting fabric, and look for a matte back. That way, the vest's casualness matches the vibe of the whole outfit.
5. The Briefcase. Ben Sherman Leather Briefcase.
6. The Lunch Tote. Kaufmann Mercantile Waxed Canvas Lunch Bag. There's no need to carry your lunch to work in a plastic grocery bag or a chintzy neon pouch. This handsome waxed canvas lunch bag in handmade in North Carolina.
7. The Belt. Tanner Goods Skinny Standard Belt.
8. The Reader. Kindle Paperwhite. For reading on your lunch break. How far are you into Cannery Row — this month's AoM Book Club selection?
9. The Timepiece. Seiko 5 Automatic Casual.
10. The Socks. Richer Poorer Polka Dots Socks.
11. The Shoes. Florsheim Veblen Ofxord (White). Bone-colored Florsheim Veblens are a fun pair of shoes to wear if you like mixing casual and tailored items. They look more casual because of their color, but they're still a longwing brogue. Plus they'll look great paired with the oxford shirt and chinos.
Last updated: October 22, 2014