Last week's winner was Justin from Pennsburg, PA. He chose the Inkleaf Double-Cross Wallet.
Introducing the Huckberry Women's Shop
Huckberry carries awesome items for guys to buy for themselves. But their subscribers informed them about a still unfulfilled need: help in getting gifts for the ladies in their lives. Huckberry has sometimes had a women's gift shop around the holidays, but they're now creating a permanent shop for their line-up. If you ever need a gift for an anniversary or birthday or just because, you now have a go-to place to look. AoM also has a good number of female fans, who have in times past entered the weekly giveaway to win something for their beau. Well, now you can enter each week to win something for yourself!
Each month a different guest curator will pick some of the items for the women's shop. For this inaugural edition, Kate took on that mantle and had a great time choosing some of her favorite things to be featured. Check out her picks (they're marked with a badge) and click on them to read why she digs that item.
My Picks This Week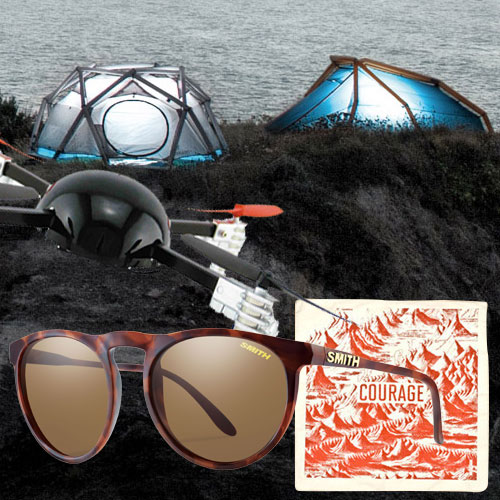 Huckberry has brought back the popular Heimplanet 100% inflatable tents. No poles. Just a pump. They're also offering up a great toy for grown-ups — your very own helicopter drone with a camera. Outside Mag recently profiled the boom of drones, especially in adventure sports. Take your photography to the next level with this bad boy. Smith Optics started as a world-class ski goggle producer, but has now ventured into sunglasses as well. Get a new pair for the spring and summer season and you'll be the smoothest cat on the beach. Finally, the handkerchiefs from Izola are just plain cool. There's a place for plain colors, but every once in a while you need a handerkchief that speaks more to your personality. This is it.
This week, we'll be giving away two items, one from the women's shop, and one from the other Huckberry men's stores. You can enter twice, once for the women's shop, and once for the normal giveaway. 
*Please enter two separate comments — once for your pick from the women's shop, once for your other Huckberry pick. Don't combine them into a single comment.
The Prize
Any item currently available on Huckberry (with the exception of the Joey Roth speakers) — this week, that's one entry from the women's shop, and one from the rest of Huckberry. Be sure to check out the current line-up of items as it changes every week.
How to Enter
Leave a comment sharing what you'd like to win.
Sign up for Huckberry to gain access to their  store. You have to sign up because the store and the discounted prices are not available to the public. Just so we're clear, if you sign up for Huckberry, you're opting into receiving weekly emails from Huckberry on their exclusive deals. You can unsubscribe anytime you want.
Take a look around, pick one item you'd like, and leave a comment on this post sharing your selection.
Do not make multiple comments. All comments are moderated, so your comment will not show up instantly, but will show up later once it's approved.
If you are an email subscriber, do not reply to this email to make your entry. You must click on the title of this post, which will take you to the post on our web page. You must make your comment on the post on our web page to be entered.
Deadline to enter is April 3, 2014 at 5PM CDT.
We'll then draw two random comments to select the winners. The lucky gents will get the item they selected and shared in the comments. Good luck!
Last updated: April 3, 2014