Last week's winner was Chyler who chose the GORUCK GR1 Rucksack. I'm not sure where Chyler is from because he hasn't responded yet. Check your inbox Chyler!
My Picks This Week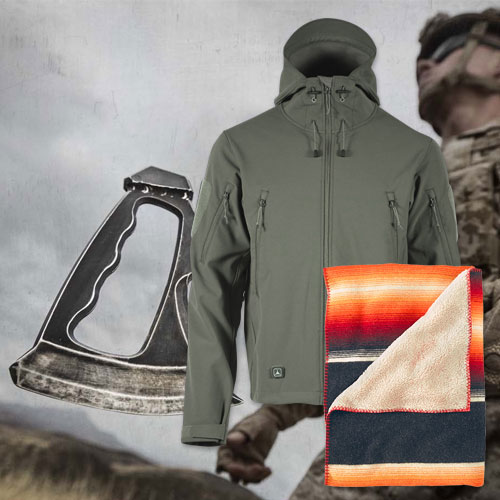 This week I'm featuring Huckberry's winter clearance stores, as these end-of-season sales are always some of my favorite things to look through; I enjoy perusing the eclectic assortment of goods. Of particular interest in the the apparel store is the TAD Stealth Hoodie — an ideal shell layer that's specifically engineered for cold and damp environments. It's a perfect pick-up for the late winter and spring ski season. From the gear store, you simply cannot beat the warm, durable, and American-made Woolrich blankets. You'll also find one of our most popular giveaway picks in the past: the Gerber Tomahawk. With a hammer head opposite the blade and a pry bar at the bottom of the handle, this is the ultimate multipurpose tool for the zombie apocalypse.
The Prize
Any item currently available in the Huckberry Store (with the exception of the Joey Roth speakers). Be sure to check out the current line-up of items as it changes every week.
How to Enter
Leave a comment sharing what you'd like to win.
Sign up for Huckberry to gain access to their  store. You have to sign up because the store and the discounted prices are not available to the public. Just so we're clear, if you sign up for Huckberry, you're opting into receiving weekly emails from Huckberry on their exclusive deals. You can unsubscribe anytime you want.
Take a look around, pick one item you'd like, and leave a comment on this post sharing your selection.
Do not make multiple comments. All comments are moderated, so your comment will not show up instantly, but will show up later once it's approved.
If you are an email subscriber, do not reply to this email to make your entry. You must click on the title of this post, which will take you to the post on our web page. You must make your comment on the post on our web page to be entered.
Deadline to enter is February 20, 2014 at 5PM CDT.
We'll then draw one random comment to select the winner. This lucky gent will get the item they selected and shared in the comments. Good luck!
Last updated: February 20, 2014