Last week's winner was Daniel from Washington, D.C. He picked the classy DW St. Andrews from Huckberry's watch shop.
My Picks This Week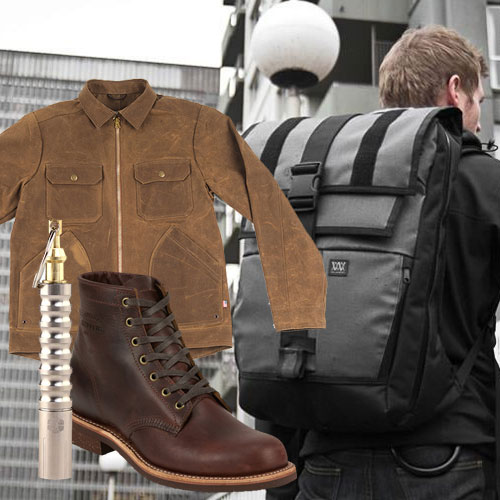 In addition to the Valentine's Day shops, Huckberry is featuring a few other stellar items this week as well.
The Mission Workshop bags are the ultimate trifecta of rugged, utilitarian, and sharp-looking. They'll cover you on your bike ride to work, your trip to the mountains, or as your EDC. West America partnered with Woolrich to create some awesome jackets that are built to get dirty in the outdoors. The Prometheus Lights are masterfully engineered to be 1/20th the size but twice the brightness of your standard Maglite. What really sets it apart is that it's the world's first quick-release keychain flashlight — that means you can easily take it off to use it without removing it from the keychain. Super handy. And finally, the weatherproof and ultra-durable Chippewa boots are a classic pick with over 100 years of American-made history. You really cannot go wrong with whatever you choose this week.
The Prize
Any item currently available in the Huckberry Store (with the exception of the Joey Roth speakers). Be sure to check out the current line-up of items as it changes every week.
How to Enter
Leave a comment sharing what you'd like to win.
Sign up for Huckberry to gain access to their  store. You have to sign up because the store and the discounted prices are not available to the public. Just so we're clear, if you sign up for Huckberry, you're opting into receiving weekly emails from Huckberry on their exclusive deals. You can unsubscribe anytime you want.
Take a look around, pick one item you'd like, and leave a comment on this post sharing your selection.
Do not make multiple comments. All comments are moderated, so your comment will not show up instantly, but will show up later once it's approved.
If you are an email subscriber, do not reply to this email to make your entry. You must click on the title of this post, which will take you to the post on our web page. You must make your comment on the post on our web page to be entered.
Deadline to enter is February 13, 2014 at 5PM CDT.
We'll then draw one random comment to select the winner. This lucky gent will get the item they selected and shared in the comments. Good luck!
Last updated: February 13, 2014