Last week's winner was Matthew from Denton, TX, and he chose the very handsome Ernest Alexander Bedford Overnight bag.
My Picks This Week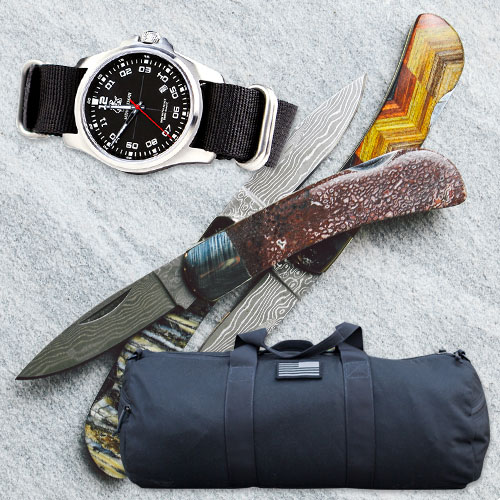 It seems like every week the offerings from Huckberry just keep getting better and better. GORUCK has introduced a line of ultra-durable gym bags that are as rugged as their famous and oft-requested ruckpacks. The good-lookin' Minuteman watches are as high-quality as they come, and as a double bonus they're assembled here in the US and one-quarter of the profits go to the Gary Sinise Foundation, which helps vets and their families. Last but certainly not least, the knives from Santa Fe Stoneworks are made from freakin' dinosaur bones. It just doesn't get much manlier than that folks. Also be sure to visit the Valentine's Day stores for both him and her.
The Prize
Any item currently available in the Huckberry Store (with the exception of the Joey Roth speakers). Be sure to check out the current line-up of items as it changes every week.
How to Enter
Leave a comment sharing what you'd like to win.
Sign up for Huckberry to gain access to their  store. You have to sign up because the store and the discounted prices are not available to the public. Just so we're clear, if you sign up for Huckberry, you're opting into receiving weekly emails from Huckberry on their exclusive deals. You can unsubscribe anytime you want.
Take a look around, pick one item you'd like, and leave a comment on this post sharing your selection.
Do not make multiple comments. All comments are moderated, so your comment will not show up instantly, but will show up later once it's approved.
If you are an email subscriber, do not reply to this email to make your entry. You must click on the title of this post, which will take you to the post on our web page. You must make your comment on the post on our web page to be entered.
Deadline to enter is February 6, 2014 at 5PM CDT.
We'll then draw one random comment to select the winner. This lucky gent will get the item they selected and shared in the comments. Good luck!
Last updated: February 6, 2014