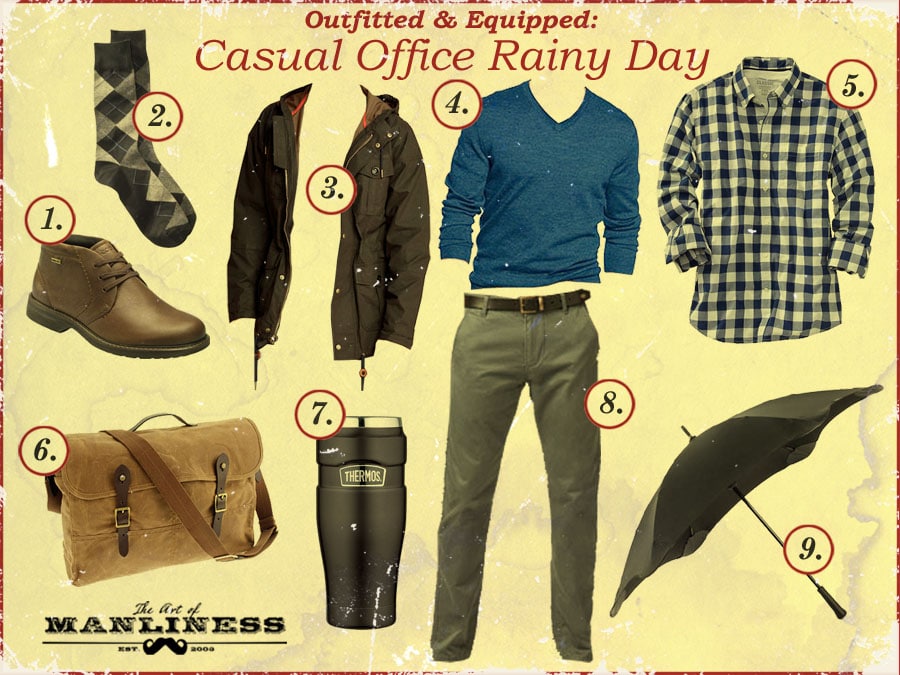 Depending on your personality, rainy days can either be a boon or a burden placed upon us by the weather gods. Either way, a rainy day can make the commute to the office, and the subsequent walk from the parking lot to your desk, a grump-inducing experience. Wet clothes can make for a miserable day, but there's no need to head into work dressed like the Gorton's fisherman. Here are some suggestions on how to look sharp at a casual office, while staying dry on the way there.
1. The Shoes. ECCO Turn GTX Boot. There's nothing worse than having wet socks and feet after a walk through the rain. But it can be hard to find a waterproof shoe that complements a sharper getup. If you don't want to wear galoshes and have to change your shoes once you get to work, this boot does double-duty: stylish enough for a casual workplace and 100% waterproof. Plus it's highly breathable so your feet won't get soggy from sweat, while you're trying to keep them dry from the rain.
2. The Socks. Merona Argyle. The price is right, the pattern is stylish, and you'll look a bit classier than your white-socked coworkers.
3. The Coat. Lands' End Rain Jacket. Some jackets just aren't meant for rainy weather. Thankfully, this jacket is built to keep you warm and dry in the most inclement weather. It's also breathable, with covered ventilation in the back so you don't sweat either. Functional and stylish.
4. The Sweater. Club Room V-Neck. When it's raining, it's also likely a bit chilly. This sweater will keep you warm in the office. Put this one in here because it's a great deal: on sale today for $24.99.
5. The Shirt. Old Navy Classic Button-Down. Checkered button-downs are perfect for a casual office. Throw this patterned shirt under your sweater for a nice layered look.
6. The Bag. J.Crew Messenger Bag. Made with waxed cotton canvas, this handsome bag will protect your goodies from the rain. A sweet deal too — only $68 with the "giftnow" promo code they currently have running.
7. The Thermos. Insulated 16oz Travel Tumbler. On a rainy day, when it's especially hard to wake up, your morning joe is extra necessary. The stainless interior makes sure your coffee doesn't taste like plastic, and it even has a tea bag hook if you're not a coffee person.
8. The Pants. Dockers Hurricane. As the name implies, these Hurricane pants will survive the worst of storms with gusto.
9. The Umbrella. Blunt Classic. Sick of going through crappy umbrellas that would break in the windy Oklahoma weather, I picked up a rugged Blunt umbrella from Huckberry this year. They're engineered to not turn inside out in a strong wind and are ready for your best bartitsu moves.
Last updated: May 16, 2016