It's time once again for the AoM x Huckberry Holiday Gift Shop. For the past two years, we've teamed up with the fine gents at Huckberry to create a curated online store full of gifts we think an AoM Man would enjoy finding under the Christmas tree. And like last year, we've added a gift shop for women, as a service to our fellow men who have a hard time finding unique and cool gifts for the ladies in their lives.
The AoM x Huckberry Holiday Gift Shop is your one-stop Christmas resource for the fellow manly men in your life and the cool women who love them. Ready to get your Christmas shopping done in one fell swoop, as well as win something for yourself or a loved one? Keep reading.
Men's Holiday Gift Shop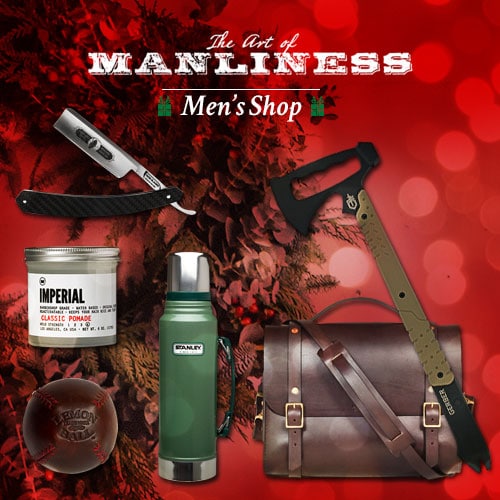 For the men's Art of Manliness x Huckberry Holiday Gift Shop I handpicked over 30 items that I thought an Art of Manliness man would enjoy seeing under the Christmas tree this December 25th, and the gents at Huckberry worked with many of the brands in order to offer AoM readers exclusive discounts on their products. Use the AoM x Huckberry store to do all your Christmas shopping for the men in your life and forward it along to your family so they know what to get you this year.
My favorite items in this year's store?
The Gerber Downrange Tomahawk, Woolrich Cavalry blanket, and the Heirloom Brass Top. Don't be fooled. The top isn't just some toy. It's an engineering marvel that's hand-turned from a solid brass bar. They keep spinning and spinning and spinning. It's mesmerizing. I keep mine in my desk drawer and spin it during brainstorming sessions to spur ideas. It works!
There are tons of other incredible made-in-America items, including my favorite hair pomade, stainless steel combs, and a straight razor. To see the other items in the store, sign-up for Huckberry to gain access.
Women's Holiday Gift Shop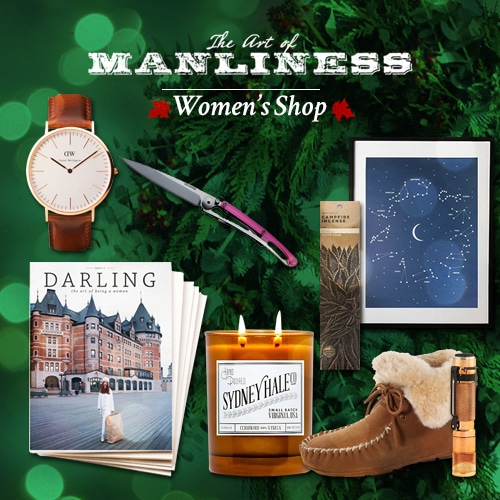 To make holiday shopping for the women in your life a bit easier, last year we launched the AoM x Huckberry Holiday Gift Shop for Women. It was such a big success that we're bringing it back again. No need to default to scented body lotion this year — in the shop you'll find a great selection of classy and useful gifts bound to delight your gal. Kate's picks from the store?
"As someone who likes to look up at the stars, I'm really drawn to the Holstee Constellation Poster. I also think the copper flashlight makes a great gift. You may have never thought of giving the woman in your life a flashlight, but every woman ought to have one stashed in her purse or handbag. It will not only come in handy for more pedestrian pickles, but as Brett has written about, it can also be used as a self-defense weapon. This one has enough lumens (remember what lumens are?) to temporarily blind someone. Brett got me a 'tactical' flashlight last year, and it was one of my favorite gifts. Finally, one of my favorite items hasn't been added to the store yet, but will be soon — a compass bracelet. I love wearable compasses — reminds me of always seeking direction and adventure in life."
The AoM x Huckberry holiday shops close on December 19th.
Shipping for items from either the men's or women's shops is free until 12 pm PST tomorrow (Nov. 23).
Huckberry only stocks a limited supply of many items, so if you see something you like, it's best to pull the trigger!
AoM x Huckberry Men's and Women's Holiday Gift Shop Giveaway
To celebrate this season of giving, we want to give two very good AoM readers their pick of any item from the men's and women's holiday gift shops. Win something to give yourself (lucky you!) or to a loved one. To find out how to get on the nice list, read on.
The Prizes
Any one item from the men's and women's holiday gift shops.
Bonus: If your name is drawn and you've already made a purchase from the Holiday Gift Shop, Huckberry will let you choose anything you'd like for yourself from the whole site, plus throw in a $50 credit as a thank you. Shazam!
How to Enter
Enter by simply leaving a comment sharing what you want to win from our two holiday stores. With this giveaway you can enter two (2) times! Leave one comment sharing what you want to win from the men's store and leave another comment sharing what you want to win from the women's store. Leave your men's store and women's store picks as two SEPARATE COMMENTS!
We'll then select one winner for the men's shop and one winner for the women's shop.
Sign up for Huckberry to gain access to our exclusive stores. You have to sign up because the store and the discounted prices are not available to the public. Just so we're clear, if you sign up for Huckberry, you're opting into receiving weekly emails from Huckberry on their exclusive deals. You can unsubscribe anytime you want.
Take a look around, pick one item you'd like Santa John Sullivan to bring you from the men's store, and leave one comment on this post sharing your selection. If you want to win something from the women's holiday store, leave another comment sharing what you want to win from that shop. (Suggested holiday Spotify playlist to listen to while you're browsing the stores: Time Life Christmas.)
All comments are moderated so it may take a little while for your comments to show up. Please be patient and do not submit duplicate comments!
Deadline to enter is Friday, December 6, 2013 at 9am CST. We'll pick two comments at random — one for the men's store prize and the other for the women's store prize — to determine our winners. Good luck and Merry Christmas!
Last updated: December 6, 2013