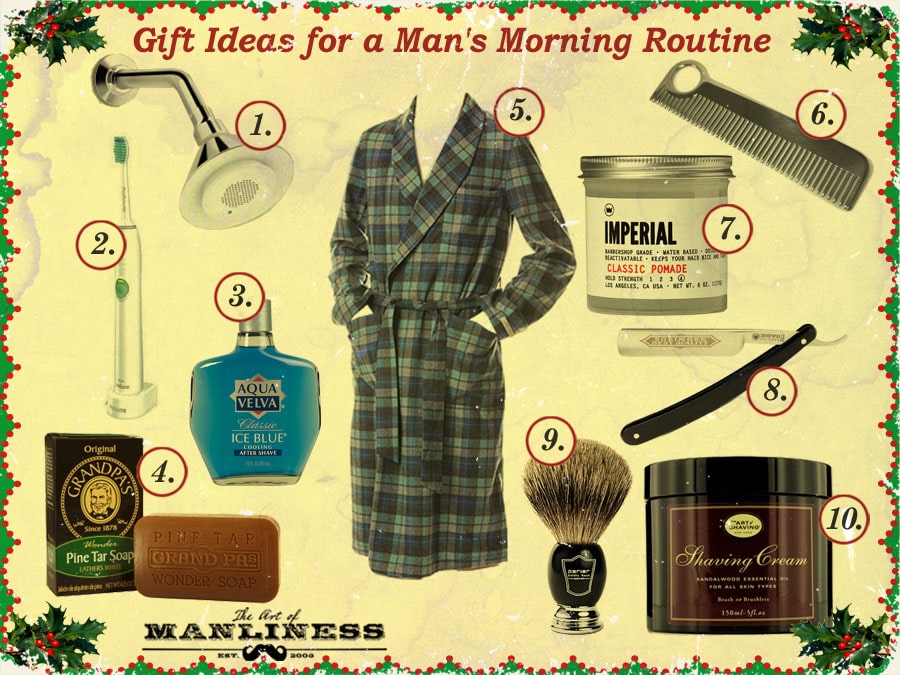 The holidays are just around the corner. If you're looking for gift ideas for the men in your life (or for yourself), look no further than at a man's morning routine. Most men do the same sorts of things in the morning: brush teeth, take a shower, shave, poop. All of these activities are pregnant with upgrade possibilities. Most men don't consider them, but would certainly appreciate it if a thoughtful someone gifted them the upgrade. Below we provide a few examples of possible upgrades to a man's routine that could be used as gifts this holiday season. Consider it a taste of our annual monster holiday gift guide slated to come out next week.
Enjoy!
1. Kohler Moxie Bluetooth Speaker Showerhead. Upgrade your morning shower with a showerhead that spews out sound waves along with water. The wireless speaker attached to this showerhead syncs with any bluetooth-enabled device. Stream "Eye of the Tiger" to get you pumped up as you wash your hair or enlighten your mind with one of our recommended podcasts while you're scrubbing your nether regions.
2. Phillips Sonicare Toothbrush. I bought one of these last year with some Christmas money and my teeth have never felt cleaner. The ultra-sonic vibrations help remove plaque on your teeth and around the gumline. Even my dental hygienist noticed that I had less plaque build-up after I started using my Sonicare toothbrush. I was never good about brushing for the recommended two-minute period, but that's no longer a problem with this baby. The Sonicare has an automatic timer that shuts off the toothbrush after two minutes.
3. Old-School Aftershave. Cheap drugstore colognes were a staple in my dad's stocking growing up, and I remember getting my first bottle of Brute in my stocking when I was twelve. Any of the old drugstore standbys make a great stocking stuffer gift. You can't go wrong with Old Spice. Lately, I've been using Aqua Velva Ice Blue.
4. Grandpa's Pine Tar Soap. An all-natural, testosterone-friendly soap that leaves you smelling like smokey pine trees. You can use Grandpa's Pine Tar Soap for bathing, shampooing, and shaving. Many customers claim that Grandpa's Pine Tar soap has even helped with their psoriasis, dandruff, and eczema.
5. Robe. Every man needs a comfy robe he can wear around a cold house while he drinks his coffee and reads the morning paper. It's also nice to wear while you shave and brush your teeth in a cold bathroom. I got a Pendleton robe for Christmas a few years back, and it remains one of my favorite things. I wear it nearly every morning.
6. Stay Manly Steel Comb. In a throwaway culture, it's nice to upgrade your comb from the plastic, disposable variety made overseas. Which is why I am a big fan and owner of the steel comb. Made with timeless style right here in America. Constructed of stainless steel (yet comfortable on the scalp), this baby is dang near indestructible and will last forever. The comb's teeth are also just the right distance apart that you can get a nice, tight comb without scraping out any product you may have put in your hair.
7. Imperial Pomade. I've long been a fan of classic men's hair products like Brylcreem. The downside is that they're incredibly greasy and hard to get out of your hair. When I heard about Imperial Barber products — created by honest to goodness barbers at Razorbacks Barber Shop in Longbeach, CA — I had to give them a try. I'm hooked. Imperial's water-based pomades give you that sharp, slick Mad Men look, but without the greasy mess. Because it's water based, it washes right out. I use a combination of their classic pomade and fiber pomade on the recommendation I was given when I paid a visit to Razorbacks in May.
8. Straight Razor. For many men, their morning routine starts off with a unique daily ritual practiced for millennia: shaving. This Christmas, introduce a man in your life to the pleasure and satisfaction of straight razor shaving. He'll get the closest shave he's ever had, and he'll reduce his shaving costs substantially over the long haul because he'll never have to buy another razor again. A close shave and more money in his pocket. That's two gifts for the price of one! Be sure to send him a link to our guide on how to shave like your great-grandpa, lest he accidentally slits his own throat on the first attempt.
9 & 10. Badger Shaving Brush and Art of Shaving Sandalwood Shaving Cream. Even if the man you're gifting would be intimidated by switching to straight razor shaving, consider adding a badger shaving brush and a good old-school shaving cream to his routine. I promise that it will make the daily shave so much better. There's something relaxing about making a lather with your brush and spreading it across your face in small circles. The brush also helps to get your whiskers completely covered in lather, thus improving the shave. I highly recommend the Art of Shaving's Sandalwood Shaving Cream. I've been using it for years now. It smells great and produces a fantastic lather.
Last updated: November 7, 2016