Our winner two weeks ago was Russell S. from Staunton, VA, and he chose the handsome Bayside Moc shoes.
My Picks This Week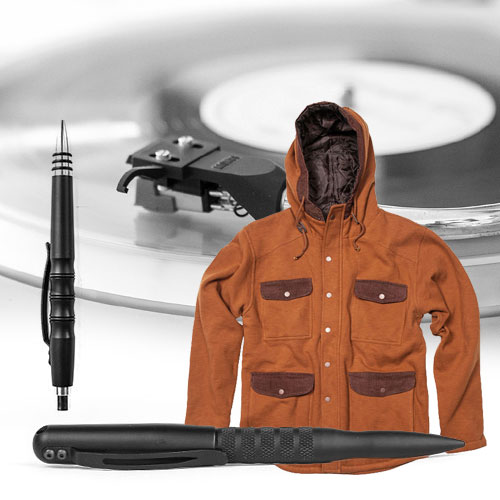 First, I recommend checking out Vinyl Me, Please. It's a super cool monthly subscription service that sends you the 5 pillars of VMP's awesome each month: 1. a hand selected, new release or vintage vinyl album, 2. a cocktail pairing for the listening, 3. a limited edition piece of art inspired by the album, 4. a weekly, curated, tailored-to-your-taste digital playlist, and 5. some new music geek friends. (I don't think the friends arrive in the box.) Tuff-writer pens are another cool item this week. These tactical pens really mean business — made in the U.S. from aerospace grade aluminum and TSA approved, they're built to withstand more than 750 PSI, so you can use them for jotting down grocery lists as well as stabbing would-be terrorists in the chest. Also worth a look are the workwear-inspired jackets from Mantix.
The Prize
Any item currently available in the Huckberry Store (with the exception of the Joey Roth speakers). Be sure to check out the current line-up of items as it changes every week.
How to Enter
Leave a comment sharing what you'd like to win.
Sign up for Huckberry to gain access to their  store. You have to sign up because the store and the discounted prices are not available to the public. Just so we're clear, if you sign up for Huckberry, you're opting into receiving weekly emails from Huckberry on their exclusive deals. You can unsubscribe anytime you want.
Take a look around, pick one item you'd like, and leave a comment on this post sharing your selection.
Do not make multiple comments. All comments are moderated, so your comment will not show up instantly, but will show up later once it's approved.
If you are an email subscriber, do not reply to this email to make your entry. You must click on the title of this post, which will take you to the post on our web page. You must make your comment on the post on our web page to be entered.
Deadline to enter is November 7, 2013 at 5PM CDT.
We'll then draw one random comment to select the winner. This lucky gent will get the item they selected and shared in the comments. Good luck!
Last updated: November 7, 2013