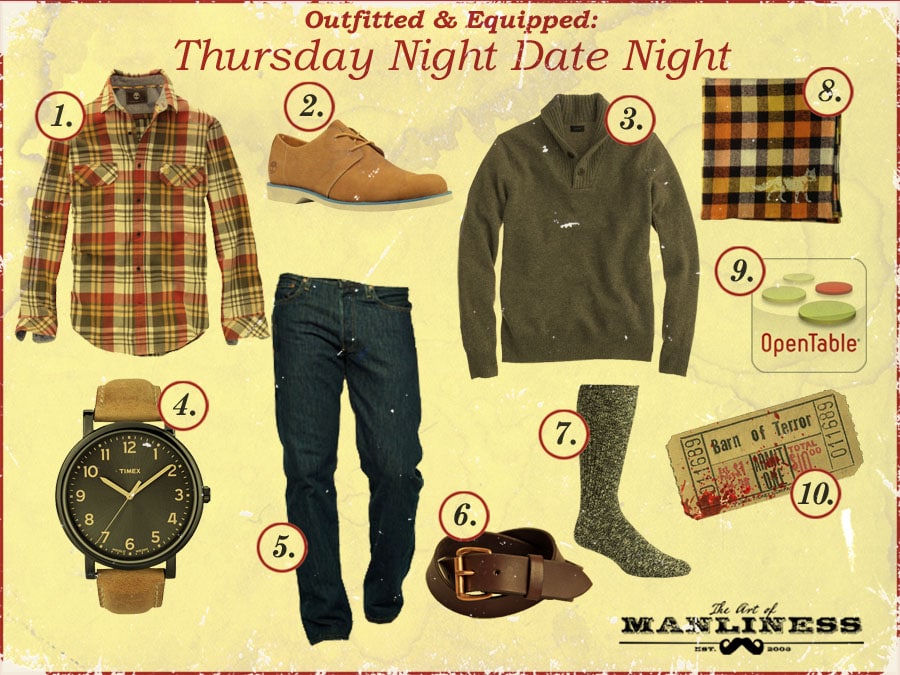 Editor's note: This gallery was curated by Barron Cuadro of The Effortless Gent.
There's something special about a date night on a Thursday. It's a work/school night, so it feels a little more daring, but close enough to the weekend to really enjoy your time together instead of thinking about all the things you have to do. You don't have to be dressed to the nines for a weeknight date, but with a little bit of thought, you can pull off the casual and yet dapper look that's perfect for the occasion.
1. The Shirt. Timberland Thompson Plaid Shirt. This is a versatile shirt. When worn alone it's perfect for working in the yard, sitting around a fire pit, or watching the game on Saturday with your buddies. Layered under a nice sweater it transforms into an accent piece for a casual but sharp look.
2. The Shoes. Timberland Earthkeepers Stormbuck Oxford. Casual walk in the park? Jumping through a pile of leaves? Grabbing burgers and drinks? These oxfords will take you through all of that, and more. A whole lot snazzier than a pair of sneakers, but with an anti-fatigue footbed, they're just as comfy for walking all over town. Plus the water resistant uppers are ready for whatever autumn throws at them.
3. The Sweater. J. Crew Lambswool Henley Sweater. A soft shawl collar sweater that wears like your favorite sweatshirt. Perfect for casual date night. Don't be surprised if your lady wants to borrow it by the end of the evening.
4. The Watch. Timex Easy Reader with Leather Strap. A slightly sleeker version of the very popular (for good reason) Easy Reader. This one with a dark face and leather strap is a nice change from your NATO-strap variety.
5. The Pants. Levis Original 501. Jeans are a great pick for the casual vibe of a Thursday night date. Keep the color dark and uniform.
6. The Belt. Tanner Goods Standard Belt. Simple, utilitarian, and handsome standard leather belt. This will last longer than you.
7. The Socks. Calvin Klein Casual. You weren't planning on going sockless with those oxfords, were you? These should do a good job keeping your dogs warm and toasty.
8. The Handkerchief. Flannel Plaid Pocket Square. Keep a clean hankie in your back pocket. You never know when you (or your lady) may need it.
9. The Dinner Reservation. OpenTable App. Need a large selection of restaurants offering a multitude of different cuisines, and a last-minute reservation to boot? OpenTable has your back. You should probably plan ahead of time for your next date, and if you manage to do that, OpenTable will still be a huge help.
10. The Admission. A Thursday night out is a perfect occasion to break out of your usual weekend date routine. So instead of going to the movies or your favorite bar, find something new to do like a museum you haven't been to yet. Better yet, do something seasonal. Since it's Halloween today, why not head to one of the many haunted attractions out there? "Barn of Terror" sounds pretty frightening – watch out for the headless chickens and zombie cows. Udderly frightetning. I'll be here all week, folks.
Last updated: May 12, 2016