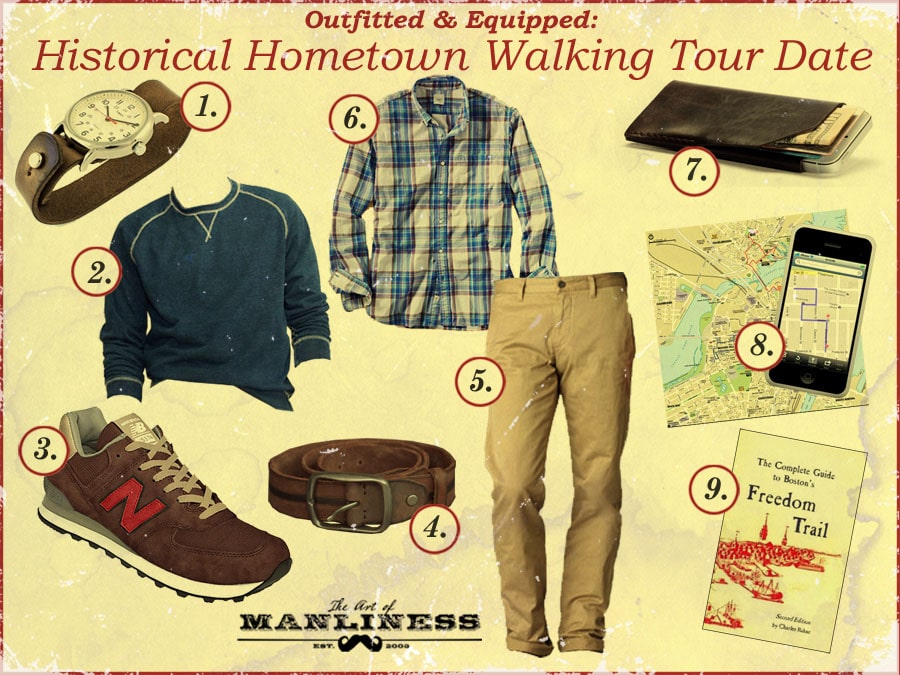 If you're like most folks, you've probably driven all over your hometown, but don't know very much about its history. Why not slow down to look at some of its landmarks more closely sometime? City historical societies often give free monthly walking tours and the themes can vary from places of historical significance to buildings of architectural interest. The guides are often quirky and are always bursting with knowledge – here's your chance to ask any question about your hometown you've ever wondered about. In larger cities, walking tours are frequently available for purchase on even more specialized themes – from gastronomical crawls to peeks into supposedly haunted establishments. But don't feel like you need a guide in either case – taking a self-guided tour is a great option as well. Just Google "self-guided walking tour" plus your hometown. You're likely to find maps and itinerary ideas that have already been laid out for you. If you're feeling particularly ambitious, you can create your own itinerary and set off for a morning of exploring.
If you're looking for a cheap date idea that she'll actually love, taking a historical walking tour of your hometown is a sure winner. You'll bond over gaining a new appreciation for where you live and have plenty to talk about along the way. Finish the tour off with some refreshments at a bar or café and talk about what you learned or most enjoyed.
1. The Watch. Timex Weekender x Form.Function.Form. What do you get when you combine a Timex Weekender watch with a leather band from Form.Function.Form? A super good-looking timepiece that suits every casual occasion, that's what.
2. The Sweatshirt. Lands' End Canvas Field Issue Crew. I had never thought about pairing a sweatshirt with a casual button-down shirt, but I saw this look on the Lands End Canvas website and really liked it. It combines handsome, date-appropriate style with a nod to the fact that the outing is of the more physical, active variety. This sweatshirt is made from a lightweight terry material, so it's perfect for layering and for middling fall temperatures.
3. The Shoes. New Balance Custom 574*. You're definitely going to need some comfortable shoes while walking the town. A pair of classic, Made in America New Balance 574s fits the bill. You can visit New Balance online , pick your own colors, and create a custom pair. I call this pair the "AoM Special."
4. The Belt. A unique, casual, comfortable and affordable belt made with distressed cowhide.
5. The Pants. Dockers Alpha Khaki. If you still associate khakis with the bland and baggy pants donned during the 90s for Casual Friday, you owe it to yourself to check out Dockers' Alpha collection. They look stylish and feel great — you may find yourself reaching for them more than your jeans.
6. The Shirt. Lands' End Canvas Poplin Shirt. If you get warm from all the walking and take off your sweatshirt, you still have a great-looking button-down underneath. It's hard to tell here, but it's got hints of red that tie in well with the shoes. Still feeling warm? Now's a great time to roll up your sleeves.
7. The Wallet. Bison Malbec iPhone Wallet. I'm a big fan of wallets that can hold both your money and your phone. They keep everything together and are nice and compact. Unfortunately, the one I bought on Esty.com started to fall apart after a year of use. Should have got this one from Bison; they're designed, sourced, and handcrafted in the USA, come with a lifetime guarantee, and are cheaper than the one I bought!
8. The Map/Itinerary & Picture Taker. If you're doing a self-guided tour, be sure to bring a map of your route and which locations you want to see. Paper maps with the route already marked are available for famous walking tours like Boston's Freedom Trail. You can also create your own map/route on your phone by plugging the locations you plan on hitting into the map app. If you do use a paper map, still bring along your phone – there are bound to be spots you discover that you want to snap a photo of.
9. The Guide. If you're doing a self-guided tour, consider bringing a guidebook so you can learn more about the places you stop at. Many guidebooks are available as ebooks these days that you can read on your phone, thus giving you one less thing to carry. If there's isn't a guidebook available for your town/route, gather some online information before your date into a document, print it off, fold it up, and stick it in your pocket.
* One out of every 4 pairs of shoes New Balance sell in the USA is made or assembled in the U.S. Where the domestic value is at least 70%, New Balance labels their shoes "Made in the USA."
Last updated: June 17, 2014