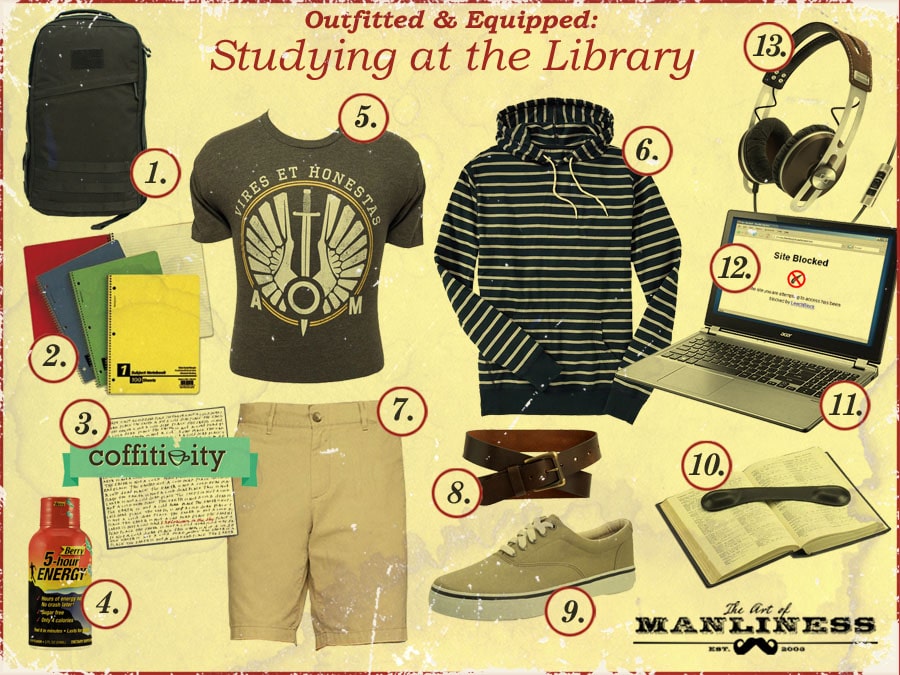 While it's great to rock something dapper on the first day of class, when you're off to the library for a study session, you'll probably want to keep it more casual and comfortable. At the same time, you don't want to look like a slob; you never know when your study buddy could become more than a gal pal. Here are some items to keep you looking decent, and being productive.
1. The Backpack. GR1 from GORUCK. In my opinion, there's no need to spend too much on clothes when you're in college — the time for that is after you graduate when you're ready to start putting together a more mature wardrobe of quality pieces that will last for years and years. But you might consider investing in a top-of-the-line backpack. Buy the right one now and you can use it for the rest of your life. Enter the GORUCK GR1. Built in the USA of military-grade, highly water-resistant materials, it comes with a lifetime repairs guarantee, will look as appropriate on you now as it will when you're 40, and can be used for walking around campus, traveling the world, overnight trips, and of course, completing a GORUCK Challenge! They've even been used by Special Forces soldiers, who have reported that their durability and low profile relative to volume capacity make them an ideal assaulter's pack. How's that for versatility?
2. The Paper. Oxford Single Subject Notebooks. For taking notes in college and law school, I mostly used Evernote on my computer. But I had a few classes where the professor barred laptops from the classroom. For such classes, and when I simply wanted to write by hand anyway, I turned to the old analog method: notebooks. Always preferred the single subject kind and having one for each class.
3. The Soundtrack. Coffitivity + Explosions in the Sky. I can't focus very well in complete silence. I need to have a little background noise and music to really get in my study zone. In fact, research shows that a bit of background noise actually boosts cognition. Back in my law school days, I always studied while listening to some white noise–often the sounds of an ocean or a rolling creek. On top of that I would listen to some non-distracting ambient instrumental music. While I'm no longer in school, I still use a cognition-boosting soundtrack when I'm writing and researching. Lately I've been using a free web app called Coffitivity for my white noise. Coffitivity plays the sounds of a calm, yet bustling coffee shop. It's the perfect amount of background noise to get the creative juices flowing for that research paper. On top of that, I like to listen to anything by the instrumental rock band Explosions in the Sky. They'll make whatever it is you're working on feel like an epic quest.
4. The Boost. 5-hour Energy. When you're knee-deep in a giant textbook on economic theory, it's pretty easy for your eyelids to get super heavy. 5-hour Energy is my go-to energy booster for that "2 o'clock feeling," or whenever a reading-induced coma strikes. Just like the commercials say, it starts working in minutes. And its small size makes is easy to inconspicuously down if the library bans drinks.
5. The Tee. AoM Strength and Honor T-shirt. As an AoM reader, you probably strive to break the college bro stereotype. Give yourself a moral reminder in the morning to be a man of strength and honor when you don this tee.
6. The Pullover. Old Navy Lightweight Pullover. Libraries can often get pretty chilly, so wear or bring a pullover.
7.  The Shorts. Gap Flat Front Shorts. One small way to upgrade your wardrobe when you transition from high school to college is to choose classic flat front shorts, as opposed to the bulky and baggy cargo variety. For more easy ways for a college student to upgrade his style, check out this post.
8. The Belt. Old Navy Brown Belt. A quality belt is another item you might consider investing in (or asking for as a gift) since the same one can look as appropriate now as in your thirties, and a good one can last for decades. But if you've got a tight budget, something inexpensive like this will get you through the next few years.
9. The Shoes. Dexter Mackinaw Canvas. Decent-looking casual shoes and dirt cheap.
10. The Help. Leather Book Weight. I wish I had discovered the wondrous book weight earlier in my academic career. A book weight keeps your book open so you can transcribe notes from it without struggling to keep the pages from turning. Simple, yet life-changing.
11. The Computer. Acer Aspire. An affordable touschscreen laptop for the college student on a budget.
12. The Distraction Nanny. LeechBlock. It happens to us all. You have the best of intentions in being super productive with your study session. But then you find yourself surfing over to Gmail, followed by a quick look at Facebook, which leads to a browsing session at Reddit. Before you know it, an hour has passed and you've got nothing to show for it. This semester, make it a goal to quit mindlessly surfing the internet and actually get stuff done. One tool that I used during college and law school to help me stay focused was a Firefox extension called LeechBlock. It allows you to block time-wasting sites in several ways. First, you enter which sites you want to block. Next, you tell the program when you want them blocked. For example, you can set LeechBlock to block your designated sites until 5PM on weekdays, but keep them available to you all day on the weekends. Another way you can set it up is to block certain sites after you visit them for a certain amount of time. So if you want to limit your Facebook browsing to just 30 minutes a day, you can have LeechBlock block Facebook after you've reached your 30-minute limit. If you use Chrome check out Nanny or StayFocused.
13. The Headphones. Sennheiser MOMENTUM On-Ear. You'll need some headphones to listen to your study soundtrack. Plus headphones act as a "Do Not Disturb" sign so you can get some distraction-free work done. The Sennheiser Momentum On-Ear headphones combine old-school style with modern high-tech, high-fidelity performance, just like the original MOMENTUMs, but less expensive and more compact. Enjoy the full depth and detail of your music with these beauties.
Last updated: October 22, 2014