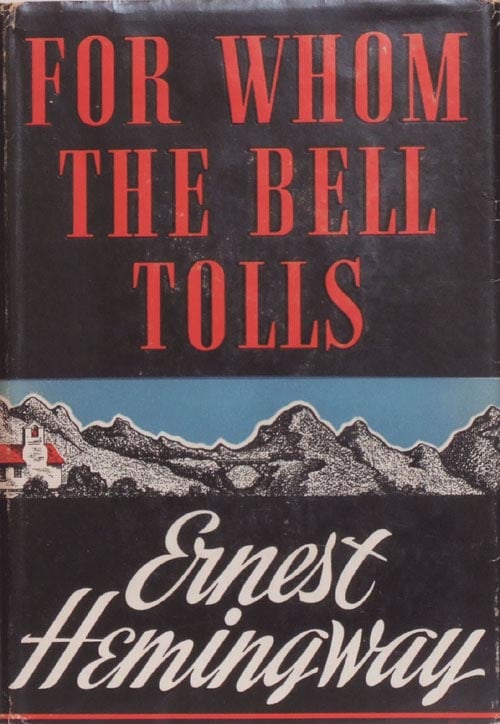 In spite of his faults, of which there are plenty, Ernest Hemingway was without a doubt one of the manliest men of the last century. His life of adventure and ruggedness provides inspiration for men the world over, and his writing paved the way for 20th century prose, both fiction and non-fiction. His writing is often considered terse, as it employed short, declarative sentences, and avoided the fluff and flowery language of "high" literature.
To choose our book for September, we used a reader poll over in the community, and members of the book club selected For Whom the Bell Tolls. Published in 1940 and set in the Spanish Civil War, this is considered one of Hemingway's greatest works. The story follows Robert Jordan, a young American volunteering as a dynamiter in the war. It's partially written from Hemingway's own experiences in that very war as a journalist. There's plenty to learn about being a man from this story, so join in!
Schedule
We're giving you two weeks to get your hands on the book and read the first 10 chapters. We'll post the first discussion on Monday, September 9th, and then every Monday for the remainder of the month. We'll announce the October selection a week or so before that one starts up.
Book Club Notes
If you've missed out on previous selections — The Great Gatsby, The Autobiography of Benjamin Franklin — you can always peruse the old discussions and add your thoughts. Just because the official discussion is complete doesn't mean you can't get a lot of insight as to what's there from previous months.
Speaking of Benjamin Franklin, we're excited to announce that author and historian H.W. Brands is contributing a Q&A to August's discussion of The Autobiography of Benjamin Franklin. Head over to the community and stay tuned next week for that interview to be posted! 
How to Join the Book Club
We'll make announcements about the book club here on the main site, while housing the book's discussion over on the AoM Community in a private group called "The Official Art of Manliness Book Club." In addition to online discussion in the group forums, we plan to include other great features including video chats and Q&As with some literary experts on the subjects of our discussions.
To join the AoM Book Club you pay a one-time $1 membership fee (the aim of this nominal fee is to simply keep out trolls and hopefully increase your commitment). If you've already joined the book club group and paid, you don't have to do so again. You'll have access to all our discussions, notes, video chats, and expert Q&As from here on out.
Last updated: April 2, 2014