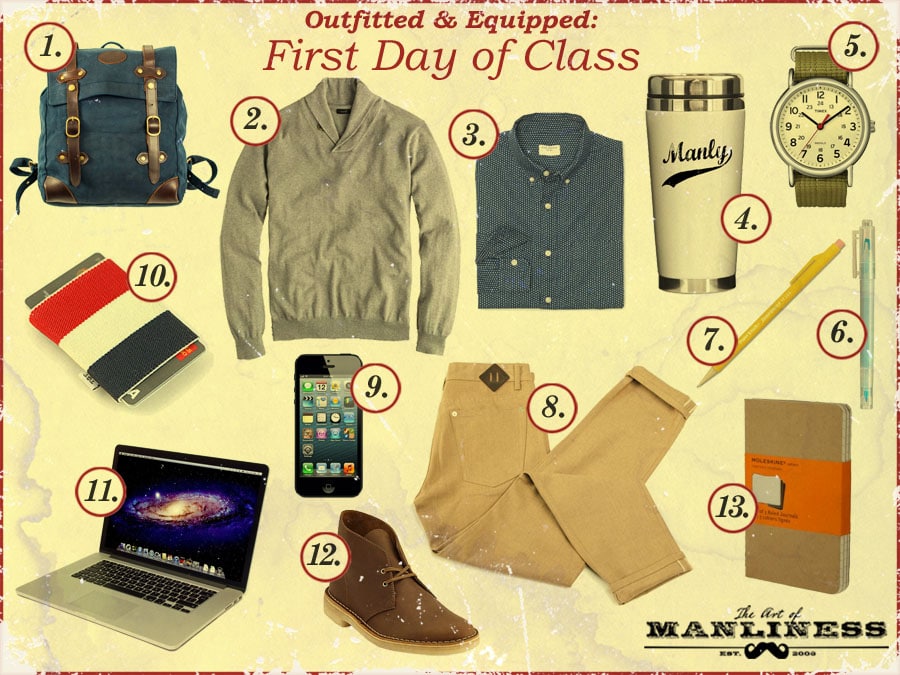 Editor's note: This gallery was curated by Barron Cuadro of The Effortless Gent.
September is quickly approaching, which means it's already back to school for all the students out there. Back when you were little, mom would make a big deal about making sure you looked all prim and proper for your first day — and as much as you hated her fussing then, she had a point. You want to make a good first impression to your fellow students as well as your professors right when you walk into the classroom. The sweatpants may look appealing when it's early in the morning, but it says a lot about a man who will get up a little early and take pride in the way he looks. With fall in mind, some of these choices are for slightly cooler environs, so if you're in warmer climates, hopefully these picks will inspire some ideas of your own beyond t-shirts and sneakers.
How does Outfitted and Equipped work? The FAQ.
1. The Backpack. J. Campbell Washed Canvas Backpack. How else would you carry your stuff as you foot it around campus? Upgrade from the Walmart bag you had in high school.
2. The Sweater. J. Crew Heather Gray Shawl Collar Sweater. In case it's chilly on your way to class early in the morning, or when heading home late at night. A nice step up from your typical fleece sweatshirt.
3. The Shirt. Club Monaco Slim-Fit Printed Shirt. It's your first day, you want to make a bold impression. If it's warm or you want to look a little more casual, roll up the sleeves.
4. The Thermos. CafePress Manly Travel Mug. If you're like me, you're going to need coffee in the morning. Instead of wasting $5 a day on fancy lattes, brew your own java and bring it to class in this stellar travel mug. It has a ceramic shell, so it's hefty and will last a long time. No cheap plastic here.
5. The Watch. Timex Weekender. A clean, no-nonsense, utilitarian watch. Might not have fancy moon phases or a diamond bezel, but it tells time perfectly so you won't be late for your next class.
6. The Highlighters. Muji Double-Ended Highlighter Pen. These Muji highlighters are perfect because they are double-tipped. One side is great for underlining, the other, for highlighting passages in your books. On top of that, the nib is partially clear, so you can see the lines you're highlighting. Brilliant.
7. The Pencils. Paper Mate Sharpwriter. Simple mechanical pencils that look a bit like those old school wooden ones you used in grade school. Pencil sharpener not needed.
8. The Pants. Goodale Slim Beige Selvedge Denim. Because you want to stay away from the pleated, baggy versions that scream "Best Buy Sales Associate." And the selvedge denim is great for students because they only need washing every three or four months of daily wear. It's a win-win.
9. The All-In-One Tool. Apple iPhone. You can't Instagram from your Motorola Razr flip-phone. Keep your email, calendar, homework assignments, etc. all in one place. It doesn't get better than that.
10. The Wallet. TGT Americana 2.0. Ditch the duct tape wallet you thought was awesome in high school and upgrade to something that looks nice AND will last a while. You'll want easy access to your student ID card without having a hulking wallet in your pocket all the time — this wallet from TGT is perfect.
11. The Computer. Apple MacBook Pro. Write papers, surf the internet, and watch cat videos on a crisp Retina display. And with iCloud, you can sync everything with your phone and not have to worry about copying/pasting notes back and forth between devices.
12. The Footwear. Clarks Desert Boots. Plan on putting a lot of mileage on these. They're durable, comfortable, and look damn handsome.
13. The Notebooks. Moleskine Ruled Cahier Journals. Jot down notes in style with these Moleskine journals. Besides, those spiral-bound notebooks can snag your sweater if you're not careful.
Last updated: May 10, 2016