Last week's winner was:
Jesse O. who hasn't gotten back to us about his hometown yet. Jesse chose the Monolith Rucksack from Heimplanet.
My Picks This Week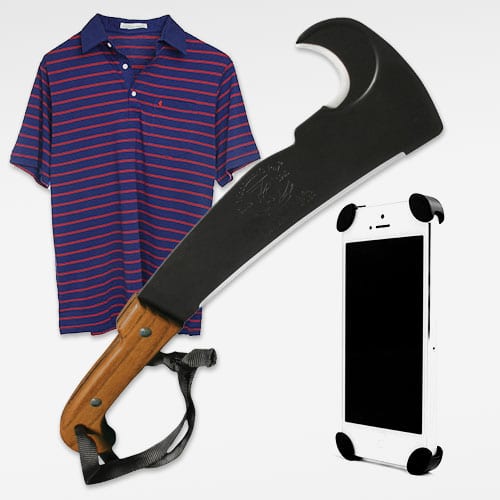 Nothing big and jaw-dropping this week, but lots of cool little things to check out. First, I highly recommend the polo shirts from Criquet. They're the only polo shirts I've ever liked, are soft and comfortable, offer a nice casual step up from tired old t-shirts, and if you see me in the summer, chances are I'll be wearing one (see me in them here and here). I'm going to be picking up a handcrafted Woodman's Pal this week: part-axe, part-machete, part-knife, it's been the standard military issue clearing tool since 1941. I'm slowly working on making a little trail on a small patch of land we have out back, so it ought to come in handy. And finally, I like the iphone cases from Bezl. Simple, but get the job done.
And as a heads up, the Gerber tomahawk that was so popular last month is available again in the "Best of July" section!
The Prize
Any item currently available in the Huckberry Store (with the exception of the Joey Roth speakers). Be sure to check out the current line-up of items as it changes every week.
How to Enter
Leave a comment sharing what you'd like to win.
Sign up for Huckberry to gain access to their  store. You have to sign up because the store and the discounted prices are not available to the public. Just so we're clear, if you sign up for Huckberry, you're opting into receiving weekly emails from Huckberry on their exclusive deals. You can unsubscribe anytime you want.
Take a look around, pick one item you'd like, and leave a comment on this post sharing your selection.
Do not make multiple comments. All comments are moderated, so your comment will not show up instantly, but will show up later once it's approved.
If you are an email subscriber, do not reply to this email to make your entry. You must click on the title of this post, which will take you to the post on our web page. You must make your comment on the post on our web page to be entered.
Deadline to enter is August 15, 2013 at 5PM CDT.
We'll then draw one random comment to select the winner. This lucky gent will get the item they selected and shared in the comments. Good luck!
Update: Our winner was Zac from Homewood, AL. He went with a pair of Tellason jeans. Great choice.
Last updated: August 15, 2013