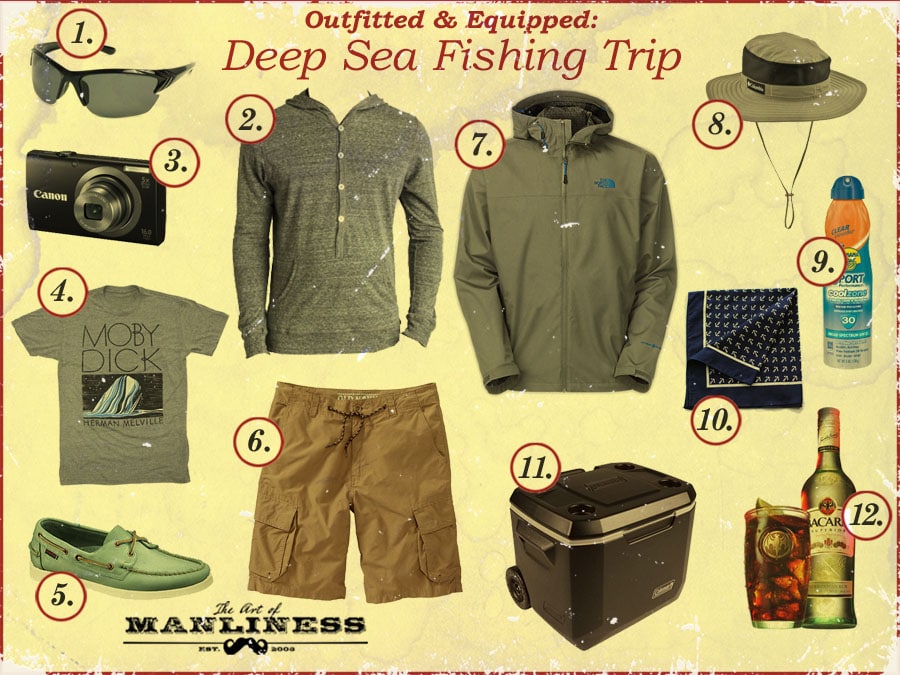 Whether off the coast of California, Florida, Cancun, or even Prince Edward Island, a deep sea fishing adventure is a great way to spend a day of your vacation. So what characterizes deep sea fishing versus other varieties of fishing? It obviously takes place in deeper water, with a depth of 100 feet generally being known as the "deep sea" cut off. Because of this, you're able to fish for larger and more exotic species like tuna, marlin, and even shark. This isn't your average fishing trip on a calm lake, so the gear will look just a little different to protect you from wind and sun and ensure you have a memorable trip.
1. The Shades. SW Polarized Sport. Ya never know what can happen out on the boat. You don't want to be hit with a big wave only to lose your brand-new, expensive shades. Pick up a cheaper pair of wraparounds and you won't ruin your trip if they end up overboard.
2. The Pullover. Venley Lightweight Hoodie. Layering is key when out on the ocean. This hoodie is perfect to go over your tee if the wind picks up. It's also lightweight enough to make sure you're comfortable the whole time and not going back and forth between sweating and freezing.
3. The Camera. Canon PowerShot. You don't want to have to be fiddling with lenses and settings when you need to snap a quick picture of a marlin jumping out of the water. This camera is pocketable and can be whipped out in a flash so you can catch all the action fishing shots you want. This is the camera I have, and love it.
4. The Tee. Out-of-Print Moby-Dick. This is an awesome company that makes clothing and accessories that feature cover art from literary classics. What better homage to deep sea fishing than Moby-Dick? Harness your inner Ahab, and go get that white whale!
5. The Shoes. Sebago Docksides. These boat shoes are perfect for your outing. Their rubber sole is slip-resistant so you don't slide all over the deck. It also has a leather sock lining so you don't have to wear socks. Nobody likes wet socks.
6. The Shorts. Old Navy Swim-to-Street Shorts. Want to stroll down the dock with some style and not be wearing those cheesy Hawaiian print swim trunks? Want to take a dip in the water (if it's not shark-infested, of course) and not be wet the rest of the day? These shorts have you covered. They look like a great pair of khaki cargo shorts, but still have a swim-ready polyester lining and are made with a quick-dry material. You'll be set for the day no matter where your adventures take you.
7. The Jacket. North Face Rain Jacket. Storms can pop up without warning on the open sea, and when you're miles from shore, you want to make sure you have something waterproof to protect yourself. This is a great jacket, and will serve you well beyond your deep sea expedition.
8. The Hat. Columbia Bora Bora Booney. The sun is especially brutal when it's reflecting off the waves. Not wearing any kind of protection on your head is asking for killer sunburn. A baseball cap will do the trick, but this wide-brimmed hat from Columbia is designed with deep sea fishing in mind. It's breathable and protects your entire head from the sun so you don't have to choose between your neck and your face.
9. The Sunscreen. Banana Boat Spray. Because the sun's rays are magnified when you're out in the water, you want a higher SPF than you might normally use. A spray version also comes in handy because it leaves your hands grease-free so you can maintain your strong grip on the fishing pole with no worry of it flying out of your hands.
10. The Handkerchief. Cotton Anchor Print. Your stuff will get wet. That's pretty much a given. It may also get slimy, as fish tend to do that. Which is why you definitely need a handkerchief for your expedition, and it's even better when it's themed perfectly for your day. Whether it's wiping water off your sunglasses, fish slime off your camera lens, or a spilled beverage off your cooler, this handkerchief will get the job done.
11. The Cooler. Coleman Xtreme. I'm not sure whether it's the wheels or the built-in cupholders on this bad boy that make it "xtreme" (maybe both?), but either way this cooler is a winner. It can hold up to 84 cans of your favorite beverage, and even doubles as an extra seat should you need it. And the cupholders mean you can set your drink down and be sure it won't topple over onto the deck when you feel that shark tugging on your line.
12. The Beverage. Bacardi. Celebrate reeling in a 400 lb marlin by grabbing a cola out of that cooler and mixing in some rum. Sit back, contentedly sip your drink, enjoy the wind in your hair as the boat heads back to shore, and contemplate the satisfaction of a day well spent. Vivimos!
Have you been deep sea fishing? What did you wear and bring along? Share your tips and stories with us in the comments!
Last updated: May 10, 2016