Last week's winner was Paul G. from Buda, TX and he went with the EDC Kit. An oldie but a goodie!
My Picks This Week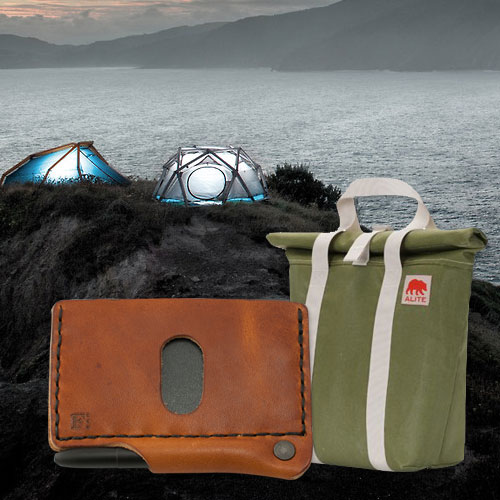 First, you have to check out the tents from Heimplanet — they're inflatable. Yes, inflatable. There are no parts to put together and they're up and ready in less than a minute (be sure to watch the video to see how they work). I'm also excited to see a wallet I've admired for awhile from form•function•form featured; it incorporates a write-anywhere Fisher Space Pen and a take-anywhere extra small Moleskine Volant notebook. So you can jot down your ingenious ideas on the go. Finally, had to give the lunch tote from Alite Designs a shout out. I know a lot of guys hunt in vain for a reusable lunch tote that isn't hideous. This one more than fits the bill in aesthetics, functionality, and affordability.
The Prize
Any item currently available in the Huckberry Store (with the exception of the Joey Roth speakers). Be sure to check out the current line-up of items as it changes every week.
How to Enter
Leave a comment sharing what you'd like to win.
Sign up for Huckberry to gain access to their  store. You have to sign up because the store and the discounted prices are not available to the public. Just so we're clear, if you sign up for Huckberry, you're opting into receiving weekly emails from Huckberry on their exclusive deals. You can unsubscribe anytime you want.
Take a look around, pick one item you'd like, and leave a comment on this post sharing your selection.
Do not make multiple comments. All comments are moderated, so your comment will not show up instantly, but will show up later once it's approved.
If you are an email subscriber, do not reply to this email to make your entry. You must click on the title of this post, which will take you to the post on our web page. You must make your comment on the post on our web page to be entered.
Deadline to enter is August 8, 2013 at 5PM CDT.
We'll then draw one random comment to select the winner. This lucky gent will get the item they selected and shared in the comments. Good luck!
Last updated: August 8, 2013