The winner of last week's giveaway was:
Dax H. who hasn't gotten back to us about his hometown yet. Dax won the Gerber Downrange Tomahawk. What a beauty. Hopefully Dax will run through the woods with it, ala Daniel Day-Lewis in The Last of the Mohicans.
My Picks This Week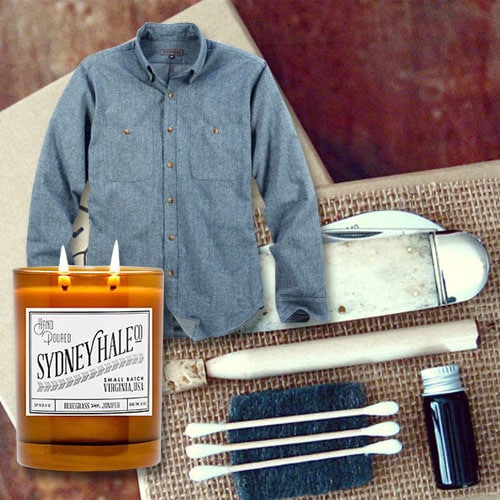 This week Sydney Hale candles are back. These babies are always popular for a reason — they smell great (my favorite is Tobacco+Sandalwood) and when the candle burns down, it can be turned into a whiskey glass. A welcoming and yet manly scented candle is a great way to make a good first impression with your place. Then there's the Scrimshaw Knife Kit from Mollyjogger — here's your chance to harness your oldtime whaler and practice a very cool vintage art form. The Made in America chambray shirts from Osmium also caught my eye…darn handsome.
Plus, T-shirts from our friends at Declaration Clothing are on sale and you still have 3 more days to try again for one of those Retrospec bikes!
The Prize
Any item currently available in the Huckberry Store (with the exception of the Joey Roth speakers). Be sure to check out the current line-up of items as it changes every week.
How to Enter
Leave a comment sharing what you'd like to win.
Sign up for Huckberry to gain access to their  store. You have to sign up because the store and the discounted prices are not available to the public. Just so we're clear, if you sign up for Huckberry, you're opting into receiving weekly emails from Huckberry on their exclusive deals. You can unsubscribe anytime you want.
Take a look around, pick one item you'd like, and leave a comment on this post sharing your selection.
Do not make multiple comments. All comments are moderated, so your comment will not show up instantly, but will show up later once it's approved.
If you are an email subscriber, do not reply to this email to make your entry. You must click on the title of this post, which will take you to the post on our web page. You must make your comment on the post on our web page to be entered.
Deadline to enter is August 1, 2013 at 5PM CDT.
We'll then draw one random comment to select the winner. This lucky gent will get the item they selected and shared in the comments. Good luck!
Last updated: August 1, 2013