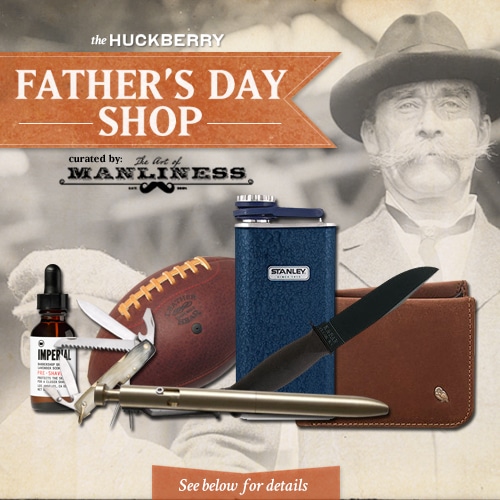 Dads often get the short end of the stick when it comes to Father's Day. It's usually an afterthought for most folks and when they do remember, they'll fall back on the predictable coffee mug or novelty necktie for a gift. Sure, dear old dad will say he loves the gift, but then he'll unceremoniously put his new mug next to the other bajillion coffee mugs in the kitchen cabinet. This year, why not give dad a gift he'll actually use…and be delighted with?
To help you find a Father's Day gift that breaks the mold, we teamed up with the gents at Huckberry to create an awesome Father's Day Gift Shop. We wanted to create a shop full of manly, quality items that reflect the classic manliness of your dad. Whether your father is an outdoorsman, a sportsman, or a dashing dude, you'll find something here that will show him he really is "World's Best Dad."
The shop is full of unique items crafted by companies with which Huckberry has secured special discounts available only to members of the site. It's really enjoyable simply to browse through the selection. All items are guaranteed to arrive by Father's Day (except the beautiful made-to-order Bexar satchels which should still arrive by Father's Day — especially if you order early).
***Free shipping is available today only until midnight PST***
To help kick off the Day of Dad, Huckberry and the Art of Manliness want to give two lucky winners any item in the Father's Day Shop (and perhaps a bonus as well!). To find out how to win, keep reading.
The Prize
Any item currently available in the AoM x Huckberry Father's Day Shop.
Bonus: If your name is drawn and you've already made a purchase for dad from the Father's Day Store, Huckberry will let you choose anything you'd like for yourself from the whole site, plus throw in a $50 credit as a thank you. Shazam!
How to Enter
Leave a comment sharing what you'd like to win.
Sign up for Huckberry to gain access to the Father's Day Store. You have to sign up because the store and the discounted prices are not available to the public. Just so we're clear, if you sign up for Huckberry, you're opting into receiving weekly emails from Huckberry on their exclusive deals. You can unsubscribe anytime you want.
This giveaway runs until June 4 and you can enter twice — once each week. 
Take a look around, pick one item you'd like, and leave a comment on this post sharing your selection.
Do not make multiple comments. All comments are moderated, so your comment will not show up instantly, but will show up later once it's approved.
If you are an email subscriber, do not reply to this email to make your entry. You must click on the title of this post, which will take you to the post on our web page. You must make your comment on the post on our web page to be entered.
Tweet
For an extra entry into the giveaway, tweet your pick and tag @artofmanliness and @huckberry and use the hashtag #fathersday.
Deadline to enter is June 4, 2013 at 5PM CDT. One winner will be drawn each week. This post will be updated with the winners.
Good luck!
UPDATE — Your winners: Reilly Lynch of Cornwall, CT picked the Brown Porter Satchel, and Tony DeJesus of Miami picked the Aluminum Bolt Pen. Congrats!
Last updated: June 10, 2013