The winner of last week's giveaway was:
Jason from Oxford, MS. Jason chose the popular ITS Tactical Discreet Messenger Bag. Jason said he's been looking at that bag for a long. long time, and couldn't pull the trigger and was happy we decided for him. Glad to be of service, sir.
My Picks This Week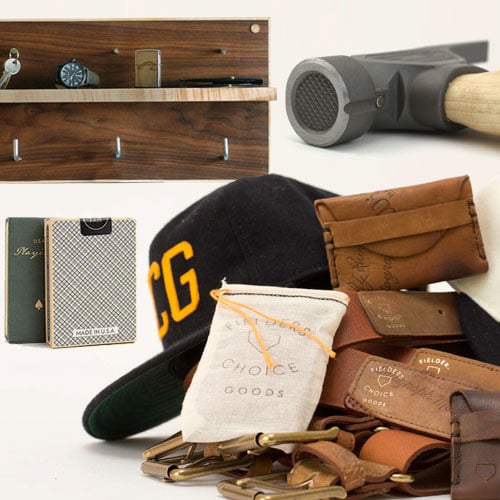 Once again, Huckberry is jam-packed with some incredibly awesome stuff this week. My favorites include hammers (and a hatchet) from Hardcore Hammers, which are designed for maximum longevity by a carpenter and are entirely forged, sourced, hand-ground and assembled in the USA; the vintage plaid playing cards from Dan and Dave which feature unique extras like a majestic Buck joker card, crossword puzzles, and an Ace of Spades stainless steel bottle opener card; and a beautiful maple and walnut coat rack and organizer from Meriwether that's handcrafted in Montana. Another gem are the incredible wallets from Fielder's Choice, which are made from the re-purposed vintage Rawlings Leather of old baseball gloves. These babies always sell out in a blink — you've really got to be quick on the draw. They're all gone, and more won't be coming in, but if you select one in the  giveaway, Huckberry will hook you up. Fielder's Choice makes a nice belt too.
The Prize
Any item currently available in the Huckberry Store. Be sure to check out the current line-up of items as it changes every week.
How to Enter
Leave a comment sharing what you'd like to win.
Sign up for Huckberry to gain access to their  store. You have to sign up because the store and the discounted prices are not available to the public. Just so we're clear, if you sign up for Huckberry, you're opting into receiving weekly emails from Huckberry on their exclusive deals. You can unsubscribe anytime you want.
Take a look around, pick one item you'd like, and leave a comment on this post sharing your selection.
Do not make multiple comments. All comments are moderated, so your comment will not show up instantly, but will show up later once it's approved.
If you are an email subscriber, do not reply to this email to make your entry. You must click on the title of this post, which will take you to the post on our web page. You must make your comment on the post on our web page to be entered.
Deadline to enter is April 4, 2013 at 5PM CDT.
We'll then draw one random comment to select the winner. This lucky gent will get the item they selected and shared in the comments. Good luck!
Last updated: April 8, 2013