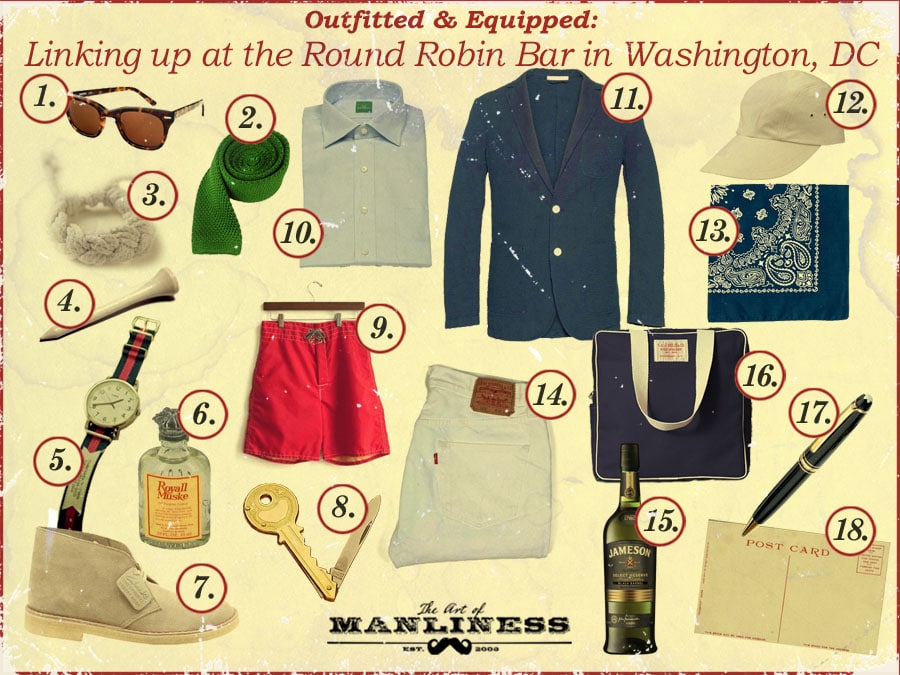 The next three editions of Outfitted and Equipped will be a special series that I'm excited about. I've asked three of my favorite men's lifestyle bloggers to curate an edition based on what they would wear and carry when linking up with friends at their favorite hometown hangout. First up is Walker Lamond, author of one of my favorite blogs and books, Rules for My Unborn Son. Walker hails from Washington, D.C. and is a big fan of the historical Round Robin Bar there:
The Round Robin Bar in the Willard Hotel has been around awhile. Mark Twain drank here. So did Walt Whitman, and legend has it that this is where Henry Clay introduced the Mint Julep to Washington. Just sitting at the round mahogany bar will make you feel manly. The decidedly non-hipster bartender serves up sidecars and gin rickeys without irony, and it's still my special occasion bar of choice. Which these days means pretty much any time I get a pass to hit the town. Here's how I like to dress and what I like carry with me when I pay the bar a visit.
How does Outfitted and Equipped work? The FAQ.
1. The Sunglasses: Shuron Freeways. Made in the USA and unchanged from when they didn't look retro.
2. The Tie: Knitted – Kelly Green. I'm a sucker for solids. And with this one no one will try to guess your party affiliation. Plus you wont worry about wrinkling it when you toss it in your bag after a few rounds.
3. The Accessory: Rope Boardwalk Bracelet. Reminds me to never stray too far from the beach, at least in my mind.
4. The Golf Tee: I always seem to have a couple golf tees in my pocket. They're not really handy for anything but golf. But they speak volumes when they spill out of your billfold.
5. The Watch: Timex Easy Reader. This is the same watch I've worn since high school. I swap the strap out every couple years.
6. The Cologne: Royall Muske. Two dabs behind the ear. Just remember to tighten the cap before you put it back in your bag.
7. The Boot: Clark's Desert Boot. The most comfortable warm weather shoe in the world. I wear them everyday.
8. The Pocketknife: Key Knife. Washington has a no-knife law so this one sneaks on my keychain. Good for opening champagne and subpoenas.
9. The Swim Shorts: Birdwell Beach Britches. I'm an optimist, so I always carry a bathing suit in my bag wherever I go. I've worn Birdwells since I was a kid, and they haven't changed a lick. Plus, red trunks make me feel like a lifeguard.
10. The Shirt: Sid Mashburn Spread Collar Dress Shirt. Simply, the perfect shirt.
11. The Jacket: Navy Seersucker Suit Blazer. A soft-shouldered cotton jacket is my go-to for most occasions. I had my tailor whip up one for me in a lightweight seersucker, but this one from Club Monaco has all the right details and isn't too expensive.
12. The Cap: Quaker Marine Swordfish Cap. Never know when someone will invite you to the beach or the ballpark. Be prepared.
13. The Handkerchief: Bandana of your choice. The hankie in your breast pocket is for her. This one's for you. I always carry one in my back pocket. It will come in handy on a sweltering DC summer day.
14. The Pants: Levi's 501 Jeans. These jeans are so versatile I wear them almost every day when the temps are above 70. And in the summertime, they dress up very well. Wearing a suit is fine, but in Washington, you'll look like you just got off work on the Hill.
15. The Beverage: Jameson Whisky. Something to wet the whistle.
16. The Bag: Wm. J. Mills Flight Bag. My go-bag of choice. No frills and durable as hell.
17. The Pen: Montblanc Black Rollerball Pen. Sure a Bic does the trick, but every guy needs one fancy thing. This is mine.
18. The Check-In: Postcard from the Willard. I try to end any dinner or night out with a postcard to a friend. It beats checking in on Facebook or Foursquare.
______________________________________________
Walker Lamond is a writer, television producer, and author of the book Rules for My Unborn Son, based on his popular blog. His television credits include programs for the Discovery Channel, National Geographic, and HBO. His most important credit, of course, is dad.
Last updated: June 11, 2014