The winner of last week's giveaway was:
Brad Thornburg from Weatherford, Oklahoma. Brad selected those well-designed Khlip nail clippers. Nail clippers ftw! Great to see a fellow Okie take home the prize.
My Picks This Week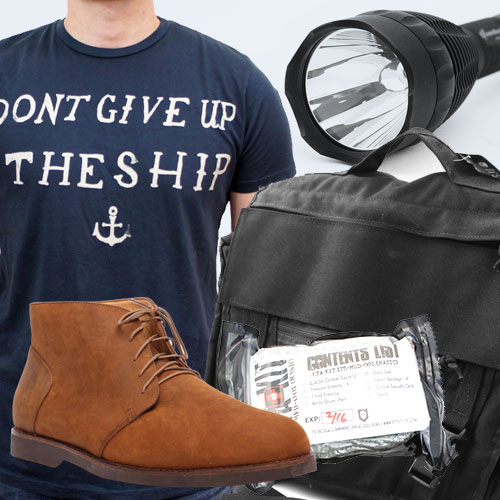 Man almighty. This might be my favorite Huckberry edition yet. It was hard to narrow down what to talk about. Top billing has to go to our friends at ITS Tactical. They're offering their emergency trauma kits which are packed with supplies to treat the three leading causes of death in the field. A small EDC version is available too. Then there's their Made in America discreet messenger bag — which you can use to both carry a laptop and fight out of. There's a quick access pocket for concealed carry and tons of other features too, but it's designed not to look like a tactical bag and draw attention to itself. The bag has already sold out; Huckberry is working on getting more inventory, but even if it sells out again, if you choose the bag for the giveaway, they'll honor that pick and get a bag out to you.
There is lots of other great stuff in the store too. In staying on the tactical theme, check out the Extreme Beam flashlights and headlamps — the former have a luminance range of almost a mile.
If tactical items aren't your thing, there are a couple of great style pieces. Check out the handcrafted leather boots, shoes, and loafers from Nisolo. And browse the tees from Declaration Clothing. Besides our own tees, these guys make my absolute favorite t-shirts around. I've got the Freemasons shirt. Natch.
I could go on, but just have fun browsing and trying to decide what to pick!
The Prize
Any item currently available in the Huckberry Store. Be sure to check out the current line-up of items as it changes every week.
How to Enter
Leave a comment sharing what you'd like to win.
Sign up for Huckberry to gain access to their  store. You have to sign up because the store and the discounted prices are not available to the public. Just so we're clear, if you sign up for Huckberry, you're opting into receiving weekly emails from Huckberry on their exclusive deals. You can unsubscribe anytime you want.
Take a look around, pick one item you'd like, and leave a comment on this post sharing your selection.
Do not make multiple comments. All comments are moderated, so your comment will not show up instantly, but will show up later once it's approved.
If you are an email subscriber, do not reply to this email to make your entry. You must click on the title of this post, which will take you to the post on our web page. You must make your comment on the post on our web page to be entered.
Deadline to enter is March 28, 2013 at 5PM CDT.
We'll then draw one random comment to select the winner. This lucky gent will get the item they selected and shared in the comments. Good luck!
Last updated: March 29, 2013