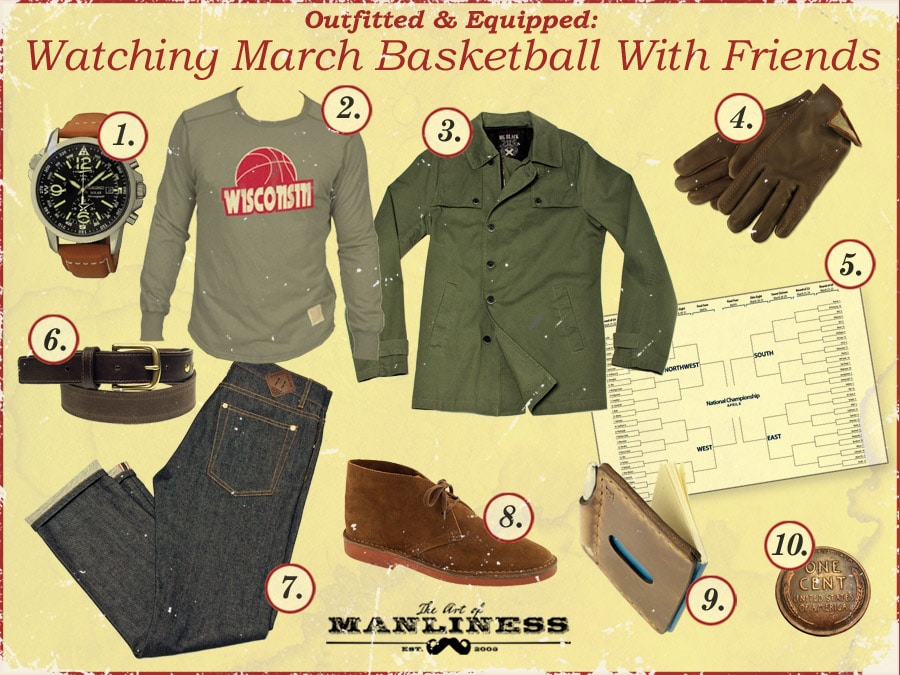 Editor's note: This gallery is curated by Joe Weber from Dappered.com.
March Madness is once again upon us. If you're going out to watch the games at a sports bar or whatnot with your buddies, you obviously don't have to spend too much time thinking about how to dress, but Joe's got some solid tips on how to make small, simple improvements to your usual getup. You never know who you're going to meet after all…maybe some Bracket Bustin' Betty.
How does Outfitted and Equipped work? The FAQ.
1. The Watch: Seiko Solar Chrono Compass. A tough, dependable, solar-powered 41mm watch that's got a lot going for it, and a lot going on under Seiko's own Hardlex crystal. It's equipped with an alarm, chronograph, and you can rotate the interior bezel so it becomes a little easier to use your watch as a compass. Way too busy for those who shy away from the sporty stuff, and if that's you, maybe consider the Techne Merlin.
2. The Shirt: Original Retro Brand Crew, long sleeve, or short sleeve T. This ain't the time or place to show up in a 3-piece suit. You're rooting on your team and keeping an eye on your bracket. The key is to avoid the massive, bulky, built-for-barrel-man fan gear that most teams push out into the marketplace. The Original Retro Brand makes NCAA-licensed apparel in a trimmer cut, for guys (and gals) who want to be comfortable while watching the game, yet not be swaddled in mountains of excess fabric. As a major bonus, they make their stuff in the United States. A bit of a splurge for just a t-shirt, but walk into any college bookstore and you'll see that most stuff has a hefty markup. (You can also find plenty of their stuff on the NCAA website.)
3. The Jacket: MG Black Label Rainier Twill Mac via Jackthreads. The heavier wool overcoats are starting to go into storage, but it's not windbreaker weather either.  The solution is a simple, mid to lightweight trench or single breasted mac style coat.
4. The Gloves: Orvis Cashmere-lined Deerskin Driving Gloves. Marked way down thanks to a sale. Not a ventilated driving glove, but a slimmer profile deerskin glove that'll keep your hands warm when March decides to act more like a lion instead of a lamb. Nice stitching along the index and pinkie.
5. The Bracket: For keeping track of all the fist-pumping wins, and heartbreaking losses.
6. The Belt: Ernest Alexander Rivington Chocolate Wax Belt. A total splurge, but Ernest Alexander has won a ton of awards, and for good reason. Their stuff isn't flashy, but it's handsome as all get out. Plus it's made in New York City and it's made to last. Wax canvas around the sides and back, rich leather up front, brass buckle and rivets. (Not one to spend that much on a belt? There's always something like this from Levi's. Or, Andrew at Primer shows you how easy it is to make your own!)
7. The Jeans: Goodale Straight Selvedge Denim via Jackthreads. Straight fit, dark wash…these aren't stonewashed relaxed-fit dad jeans.
8. The Boots: J. Crew MacAlister Brickman in Suede. Heading out for a cold one in front of the games doesn't mean you have to wear gym shoes. Plenty relaxed and comfortable, with none of that "I just got done with my morning mall walking" look. Made in Italy, re-soleable, and if you hold out for one of J. Crew's many 30% off sale items codes, they'll drop under $100.
9. The Wallet: Form Function Form Architect's Wallet. Made in the USA by the small leather goods company FormFunctionForm, this wallet uses an "extra small Moleskine Volant notebook" on one side, and has a holster for a Fisher Space Pen. That way, you can keep track of your picks if you lose your bracket, as well as any side wagers that may or may not take place between you and your pals during the game. Plenty of room for cards and cash, as long as you're not a serial wallet over-stuffer. Available in multiple leathers, including a pebbled football option.
10. Lucky Penny: Or the lucky charm of your choice.
___________________________________
Joe Weber is the Director and Editor of the affordable men's style website, www.Dappered.com. He believes that living right, living well, and looking good doesn't mean you should go broke in the process.
Last updated: June 30, 2015