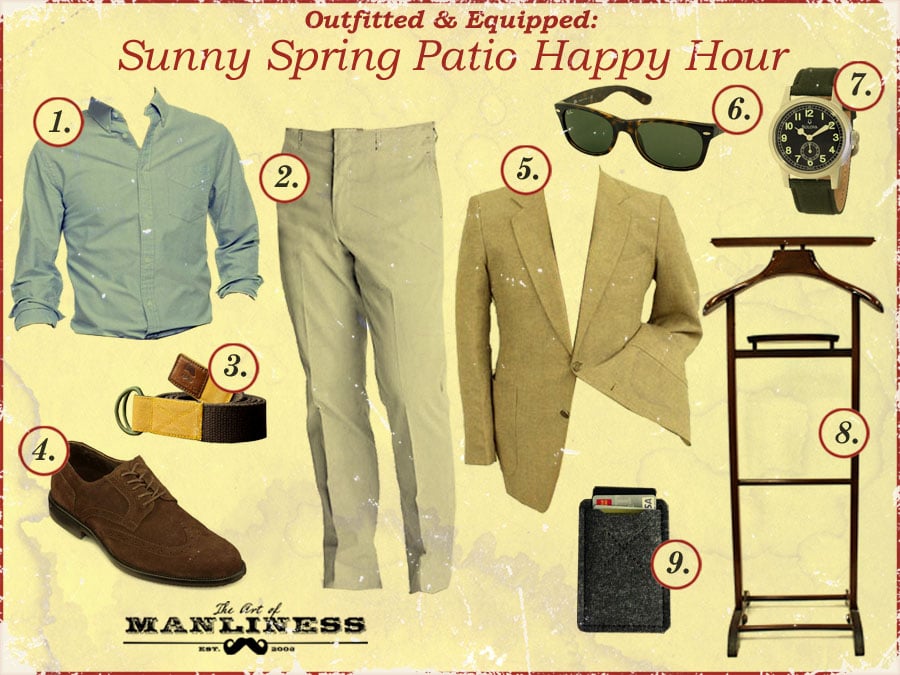 Editor's note: This gallery is curated by Joe Weber from Dappered.com.
I've been getting lots of requests from companies to sponsor an edition of Outfitted and Equipped lately (no, this one isn't sponsored — the sponsor wanted me to remove the valet at the last minute for not being cool enough, and I wouldn't do it. Valets are awesome!). Since my very, very limited style sense has already been completely exhausted by the few we've already done, I called on my friend Joe from Dappered, a fantastic site on affordable men's style, to help me curate these babies. I'm very excited to have him on board. For his first outing, he's cooked up a very nice outfit for a springtime patio happy hour. The weather's finally warming up — time to move your mingling outside. Here's one look to put together when you do.
How does Outfitted and Equipped work? The FAQ.
1. The Shirt: JCP Oxford in blue solid. If you haven't been into JC Penney in awhile, you might want to swing on in. They've made some changes recently, and one of the best new items is this fitted Oxford cloth button down shirt. Soft, won't balloon out at the sides, and feels like a well-worn favorite despite looking sharp and put together.
2. The Pants: Lands' End Tailored Pincord Trousers. Don't freak out quite yet…they're not bright white, but instead a grey pincord. Not seersucker, but tiny stripes on a lighter-weight cotton that'll help keep you comfortable if you're sitting in direct sun.  If you live in a colder climate (or you're just headed to your favorite dive where you'd rather not have your pals give you a hard time about your choice of pants all afternoon) then feel free to swap in your favorite pair of dark wash jeans. Those will work too.
3. The Belt: Wheelman and Co. Thomas Belt Brown. The buckle is actually a pair of Military D-Rings from the mid-50s. An interesting, casual belt without getting too crazy. Made in the USA.
4. The Shoes: Claiborne Suede Oxfords. Some guys are okay with cheap shoes. Some guys aren't. These are shockingly good for the price, and the solid deep brown suede makes for a somewhat casual option that lets you set your sneakers aside for awhile. Can't bring yourself to wear such cheap shoes?  How's the Allen Edmonds McTavish then?
5. The Sport Coat: 2 Button Linen Sport Coat. Linen keeps you feeling cool, while looking the part as well, once the weather warms up. This vintage option (check your local thrift stores) is a terrific find with the wider, but not enormous, lapels and timeless button stance.
6. The Sunglasses: Ray Ban New Wayfarer. Not as enormous as the traditional wayfarer, but classic enough that they're not sporty wrap-around shades either. A perfect mix. (Note: This pair from Overstock claims to be the version with a 55mm Lens. Those fit most men with average to larger sized heads.)
7. The Watch: Bulova 96A102. Looks like you stumbled across a time capsule buried in your backyard and this was inside.  Question is, why would someone 70 years ago want to bury such a great looking watch? Affordable, too. It's 40 mm in diameter which is the sweet spot for many an average-sized wrist.
8. The Clothing Organization Tool: Men's Clothing Valet. Be prepared, right? Known as a clothes valet, silent valet, or valet stand, these fixtures were used by the efficient gentlemen of yesteryear. You can hang up and lay out what you're going to wear the next day before hitting the sack. In the morning you can get dressed and out the door in a snap. You can find some nice antique ones on eBay at an affordable price.
9. The Wallet: Old Calgary Organic Wool Card Case. Instead of wrecking your spine by sitting on a George-Costanza-sized billfold all happy hour, slim down and use those extra pockets inside your blazer. Rugged and water resistant wool that's handcrafted here in the USA.
___________________________________
Joe Weber is the Director and Editor of the affordable men's style website, www.Dappered.com. He believes that living right, living well, and looking good doesn't mean you should go broke in the process.
Last updated: April 12, 2016