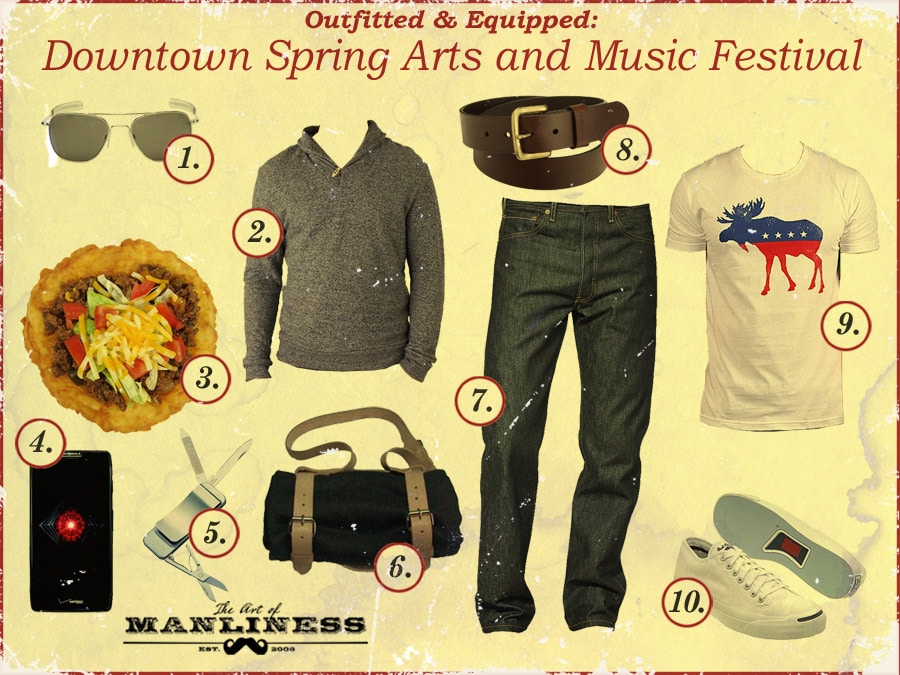 Punxsutawney Phil has used his powerful powers of prognostication to predict that spring is right around the corner. I for one am excited for what the balmy days will bring, and so to start getting in the mood, I figured we'd devote this edition of Outfitted and Equipped to an anticipated springtime activity. In a few months I'll be heading to Mayfest here in Tulsa. It is a downtown arts and music festival that boasts tons of food, over a hundred art booths, and several dozen concerts on four stages. Here's some suggestions on what to wear, pack, and eat for this kind of event.
1. Randolph Engineering Aviator Sunglasses. Randolph Engineering Aviators have been standard issue sunglasses for the U.S. military since 1982. Stylish and battle-tested for the most rigorous and demanding use. Or simply for keeping the sun out of you eyes as you look over some landscape paintings.
2. Marine Layer Shawl Neck Pullover. I bought one of these when I was out in San Francisco this fall. It's perfect for those early spring days when it's starting to warm up, but still gets chilly at night. Marine Layer makes all of its products right here in the USA from fabric made of recycled beach wood, and man, is it soft and comfortable. I've worn it a few times a week practically since I got it. Also, who doesn't love something with a toggle?
3. Indian Taco. The best part of festivals is by far the food. Lots of fried and unique delicacies to choose from. Funnel cakes are a classic, but I prefer to get my fried dough fix in a different form – the Indian Taco. Popular here in Oklahoma, it's a fried piece of dough with taco meat and fixings on top. Dee-licious.
4. Droid* Razr Maxx HD. A phone is a must whether you need to find your way downtown or meet up with friends. This Droid's got a battery that lasts up to 32 hours*. That's plenty time to take some pics in the afternoon and record your favorite band's set at night.  Moreover, if things get rowdy near the stage and you accidentally drop your phone, the Kevlar-covered back and metal edge offer plenty of protection.
5. 5-in-1 Stainless Steel Moneyclip. When you go to an event like this, some of the booths only take cash, and a moneyclip is perfect for carrying your license and a wad of green.
6. Blanket & Roll Sling. You might spend the afternoon browsing the arts and crafts booths, and then go over to a nearby park to watch a concert when the sun goes down. If you're going to have to park far away, getting back to your car to grab a blanket to sit on to watch the show will be a hassle, so carry your blanket with you in a roll sling. This is a Made in the USA reproduction of one used during the Civil War.
7. Levi's 501 Original Fit. Any pair of dark denim will do.
8. Brown Leather Journeyman Belt from Carhartt. Just a nice-looking belt.
9. Bull Moose AoM T-shirt. This shirt celebrates the political party Theodore "strong as a bull moose" Roosevelt started. Could be a good conversation starter.
10. Converse Jack Purcell Sneakers. Can't go wrong with this classic, casual sneaker.
*DROID is a trademark of Lucasfilm Ltd. and its related companies.
*Based on an average user profile that includes both usage and standby. Actual battery performance may vary.
How would you outfit and equip yourself for a springtime arts and/or music festival? Share with us in the comments.
Last updated: March 29, 2016