The winner of last week's giveaway was:
Brian Carroll from Oakland, CA. Brian won one of those handsome MWC watches (the MK III AUTOMATIC 100M) that definitely dominated the entries last week.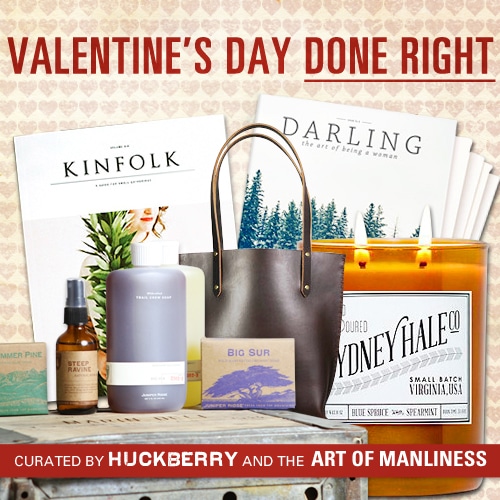 This week we're running a special giveaway for Valentine's Day. The holiday gift shop for women we put together with Huckberry for Christmas was a huge hit, and since V-Day is another time where guys often have trouble coming up with a gift, we decided to do another store of lady's gifts for the occasion. Together with Huckberry, we curated a Valentine's Day gift shop of quality gifts that are unique and thoughtful, and include plenty of affordable choices. The store closes on Sunday, February 10th. (Some of the items will have to be pulled by Thursday, February 7 to ensure delivery.)
Typically with these giveaways you get the chance to win anything in the store. But for this one, the guys at Huckberry wanted to do something on a magnitude several times greater. Up for grabs this week is:
Any item from the Huckberry x Art of Manliness Valentine's Day Store +
$125 Ruth's Chris gift certificate +
$50 flowers gift certificate +
$25 AMC gift card
Basically, the winner gets a gift for his gal AND a great night out on the town with her. Pretty sweet.
Note: If you see something you like, it's best to grab it straightaway, as stuff sells out. Some things are already sold out, but Huckberry is trying to get some of it back in stock. This includes the Morse Code "I love you" necklace — way cool. They're aiming to get those back in stock this evening, but even if it sells out again, they're going to set aside one in case the giveaway winner picks it, so it's okay to make a sold-out item your choice in the comments.
How to Enter
Leave a comment sharing what you'd like to win.
Sign up for Huckberry to gain access to their  store. You have to sign up because the store and the discounted prices are not available to the public. Just so we're clear, if you sign up for Huckberry, you're opting into receiving weekly emails from Huckberry on their exclusive deals. You can unsubscribe anytime you want.
Take a look around, pick one item from the

AoM x Huckberry Valentine's Day store

and leave a comment on this post sharing your selection.
Do not make multiple comments. All comments are moderated, so your comment will not show up instantly, but will show up later once it's approved.
If you are an email subscriber, do not reply to this email to make your entry. You must click on the title of this post, which will take you to the post on our web page. You must make your comment on the post on our web page to be entered.
Deadline to enter is February 7, 2013 at 5PM CDT.
We'll then draw one random comment to select the winner. This lucky gent will get the item they selected + the awesome  V-Day prize pack. Good luck!
Last updated: February 7, 2013