[1]
So after being on hiatus for nearly a year, I've decided to bring back the Art of Manliness podcast. Thanks to all those who emailed and messaged me asking that I bring it back. Your desires have been granted!
To kick off the resurrection of the AoM podcast, I talked to Dr. Alex Lickerman [2]. Dr. Lickerman is a practicing physician and author of a recently published book entitled The Undefeated Mind: On the Science of  Constructing an Indestructible Self [3]. If you enjoyed our series on the power of resilience, you're going enjoy my conversation with Dr. Lickerman and his book, Undefeated Mind [3].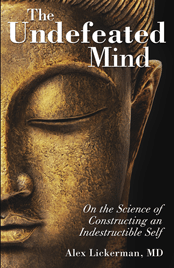 [3]
Highlights from the episode include:
How to not only survive adversity, but thrive in it
What Buddhism and Stoicism can teach us about building resilience
Why perception is key to building the undefeated mind
How you underestimate your ability to face adversity
How to turn poison into medicine
And much more!
Listen to the Podcast!
[2] Dr. Alex Lickerman: http://alexlickerman.com/
[3] The Undefeated Mind: On the Science of  Constructing an Indestructible Self: http://www.amazon.com/gp/product/0757316425/ref=as_li_ss_tl?ie=UTF8&camp=1789&creative=390957&creativeASIN=0757316425&linkCode=as2&tag=stucosuccess-20