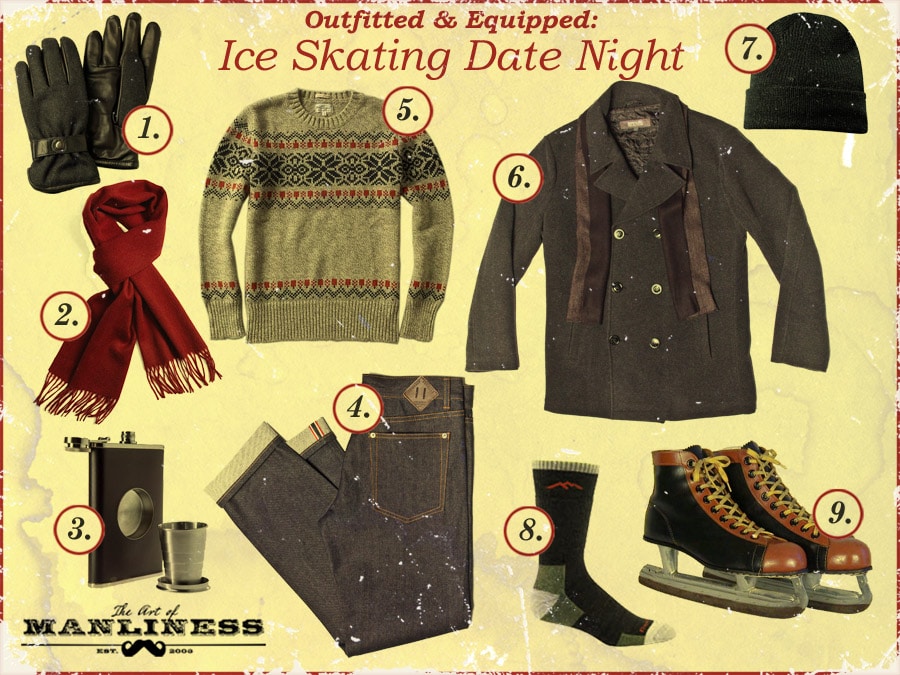 Welcome back to Outfitted and Equipped, a gallery series designed to give you some inspiration for what to put on and get together for different outings.
I was quite disturbed by this recent New York Times article on the "End of Courtship." Has dating really gotten so bad? Ask a lady on a real date this weekend. Lots of cities, even in warmer climes, have outdoor skating rinks this time of year. What could be more cozy than dinner and then gliding hand-in-hand under the stars?
1. Allen Edmonds Leather Wool Gloves. Leather and wool. The best of both worlds. On sale right now!
2. Nordstrom Wool Scarf. The pea coat shown here comes with a detachable scarf, but I'd swap it out for this date for a warmer, larger, more colorful one like this. Don't know how to tie a scarf? Watch Tony show you seven different ways to do it.
3. Shot Flask. Fill this flask with something to keep you and your date warm (brandy or hot cocoa, take your pick). If your date is cooty about taking a swig from the same spout as you, pop out the telescoping shot glass and pour her a little cup.
4. Goodale Slim Straight Selvedge  Denim. If you've ever wanted to own a pair of selvedge denim jeans, but couldn't justify dropping $150+, Jack Threads has got you covered. Pick up a pair today for $50.
5. Gant Winter Jacquard Sweater. Get in the winter spirit with this Jacquard sweater from Gant. Featuring a Scandinavian-inspired winter print on the front and back. I really dig it.
6. Kenneth Cole Melton Peacoat. The pea coat has been a staple in men's cold weather wear for decades. Its warmth and water resistance is why the U.S. Navy has issued pea coats to sailors for years. This Kenneth Cole Melton Peacoat comes with a detachable scarf and is on sale now at Jack Threads for $89.
7. Woolrich Watch Cap. Nothing goes better with a pea coat than a watch cap. Worn by sailors for years to keep their heads nice and toasty, the watch cap is another piece of standard issue clothing in the Navy. This one from Woolrich is made from wool and has a fleece lining. If you're curious about other winter headgear options, Tony will have a post on the subject next week. Stay tuned.
8. Darn Tough Vermont Hiking Socks. Darn Tough has been making warm and durable socks in the great state of Vermont for over 30 years. Made from a mixture of wool, nylon, and lycra, these socks will keep your feet warm and dry while you glide around the skating rink with your gal.
9. Vintage Hockey Skates. Grab an old pair from your dad's closet.
Last updated: March 29, 2016