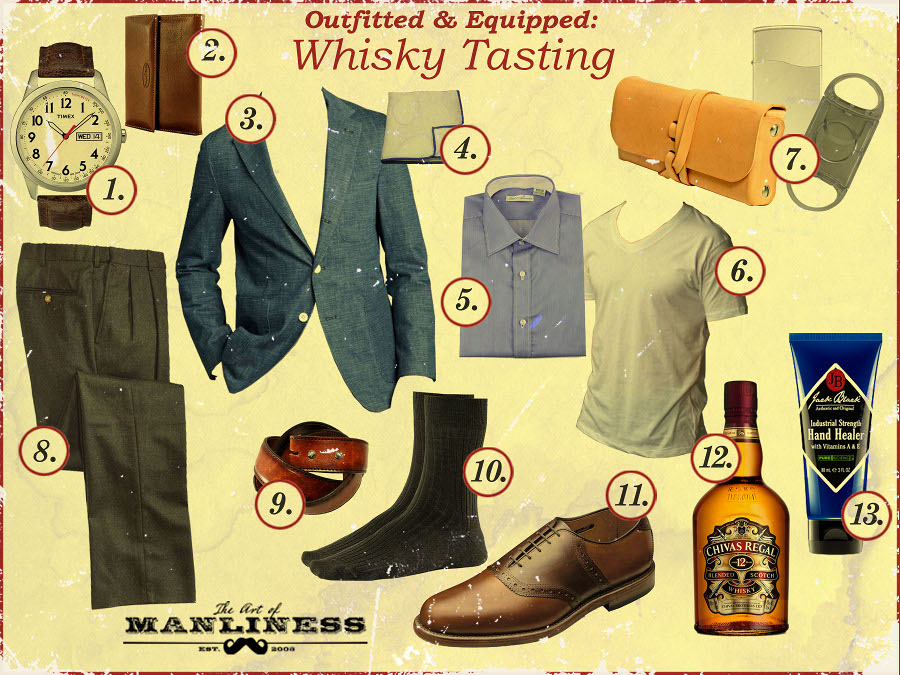 Welcome back to Outfitted and Equipped, a gallery series designed to give you some inspiration for what to put on and get together for different outings.
Editor's note: This edition of Outfitted and Equipped was curated and written by AoM style writer and Real Men Real Style creator, Antonio Centeno.
Dress Sharp Watch from Timex – Simple, affordable, classic.
Wallet from Maxwell Scott – A shout out to our European friends who have to carry coins — this simple coin wallet has you covered.
Blue Sport Coat – For an event like this, I love wearing a true blue sport coat because it's such a great color for evening. I don't have a link here to a specific jacket because I couldn't find a semi-reasonably priced coat in the color I was looking for (the one in the picture above is the right color, but it's actually denim, which wouldn't work with this getup). Remember, the idea behind the Outfitted & Equipped series is not to say "buy this exact thing," but to give you some inspiration on what you might pull together from what's already in your closet or pick up down the road.
Pocket Square from Kent Wang – The blue edging on this simple pocket square gives it a bit of versatility and uniqueness.  It can be kept simple and white, or show both colors depending on the fold.
5th & Lamar Shirt – Pick a dress shirt in a different shade of blue from the sport coat.
Cigar Smoking Supplies – Nothing goes better with a glass of whisky than a nice stogie. Pictured here is a Kenton Sorenson Cigar Case, a cigar cutter, and a Zippo Blu Torch lighter.
Vvego Leather Belt –  An extremely well-made belt, that's Made in America, and can support a holster — not that you'll necessarily be packing heat at a whisky tasting, but if you're going to invest in a belt like this, you want it to be extremely versatile and something you can wear every day with pretty much everything.
Merino Wool Dress Socks from Blacksocks – Good wool socks are hard to find — these feel great, keep your feet warm or cool, and did I mention they feel great?
Chivas Regal 12 – Well of course you won't be toting whisky to a whisky tasting, but you'll definitely be enjoying it once you're there!
Industrial Strength Hand Healer from Jack Black –  You're going to be shaking a lot of hands and meeting a lot of new people at this kind of event.  My skin gets really dry here in the fall & winter, and to keep it looking and feeling healthy, I use a high quality lotion and creams from Jack Black.  I've spoken with co-founder Jeff Dandurand about what goes into his products — 100% natural ingredients that really work. I'm a fan.
Graphic design by Ted Slampyak
What would you wear and bring to a whisky tasting event? Share with us in the comments!
Last updated: March 14, 2016