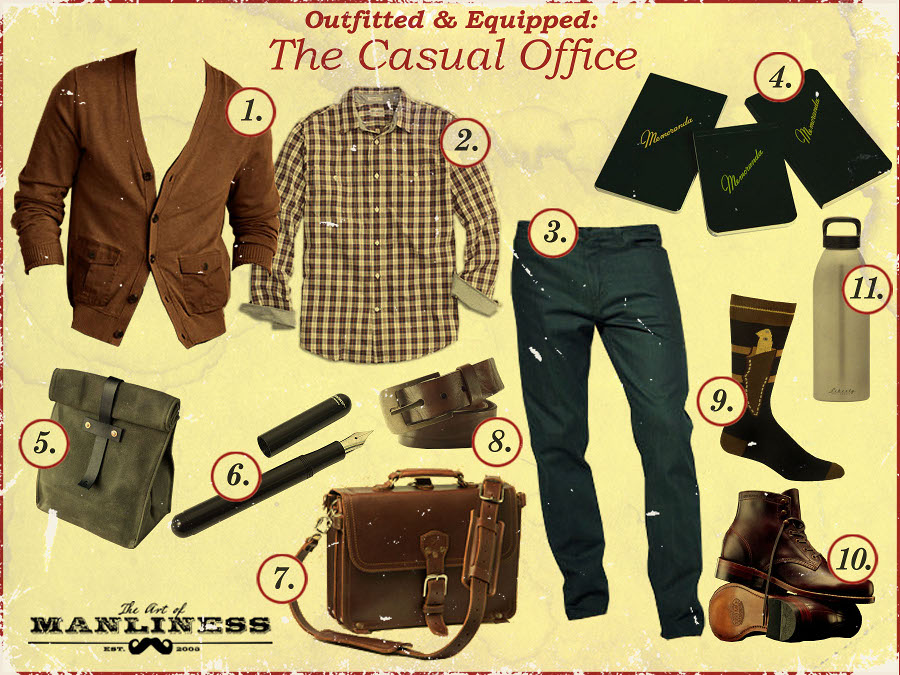 Welcome back to Outfitted and Equipped, a gallery series designed to give you some inspiration for what to put on and get together for different outings.
Today we offer some ideas on what to put on and get together for work in a casual office. Just because the dress code for such a workplace is laid-back, doesn't mean you need to wear t-shirts and baggy polos every day. Take it up a notch with something both comfortable and stylish.
1. Pocket Cardigan from Lands End Canvas (Lands End is having a 30% off sale right now, if you're thinking about picking up this sweater.)
2. Weekender Shirt from Dockers® (only $30!)
3. 508™ Regular Taper Line 8 Jeans from Levi's®
4. Military Memorandum Books (Every man needs a pocket notebook at work (and everywhere else!) for jotting down ideas, notes, and to-do lists. There are lots of notebook options out there, but I dig these nice-looking memorandum books that are supplied to our troops. Look just like the kind my grandpa used to carry around.)
5. Waxed Canvas Lunch Bag from Artifact Bag Co.
6. Kaweco Liliput Fountain Pen (A small fountain pen you can carry in your pocket.)
7. Saddleback Leather Slim Briefcase
9. Boot Knife Sock from Ozone Socks (These look like normal socks from what others can see, but it's fun to know I have a "knife" strapped to my leg under my pants!)
10. Wolverine 1000 Mile Boots (These boots are pricey, but worth it. Made in the USA and extremely versatile. In the fall and winter I wear them with everything from jeans and a t-shirt to khakis, a sport coat, and tie.)
11. Aluminum Water Bottle from Liberty Bottleworks (For some guys, the essential here might be a coffee thermos, but I personally spend my workday guzzling water from an aluminum bottle. Liberty bottles are the only metal water bottles that are Made in the USA. I like to keep things classic, but there are a lot of interesting designs available too.)
Levi's is offering an exclusive offer to AoM readers. Just use Promo Code GOFORTH2012 when shopping at us.levi.com for a 20% discount on one item. Offer ends 10/31/12.
Graphic design by Ted Slampyak 
How would you outfit and equip yourself for work in a casual office? Share with us in the comments.
Last updated: March 14, 2016